This past Christmas, Santa Claus (with the help of my awesome wife) hooked me up with a fantastic start to a kegging system - three ball lock kegs, a regulator, new CO2 bottle, four way manifold, one Perlick faucet, and lots of assorted hoses, o-rings, and fittings. For four years, I've been a pretty staunch bottling guy; despite a couple of run ins with bottle infections, I had always found it to be a good fit for me. I don't drink a lot of beer (and give a lot away), so bottling was great for that. I also enjoy coming up with some pretty cool labels for my beers, and have an awesome artist friend who draws them for me.
The few months leading up to Christmas found me really pondering the benefits of kegging for the first time since I started brewing. In a development that likely comes as no surprise to most brewers, my growing love for IPAs was directly responsible for this. Believe it or not, it took me a good two and a half years of homebrewing before I even began to tolerate hoppy beers; for the longest time, I found that even fairly tame APAs were just too bitter for my tastes. However, I kept trying various hoppy beers, and lo and behold - my tastes changed. Yes, Virginia, there *is* a lupulin shift fairy!
In what seems to be a pretty common theme among homebrewers, I found myself chasing that elusive, big punch of hop aroma.
My favorite IPA
- and favorite beer - I had brewed to date used six ounces of dry hops. When the beer was young, it was absolutely glorious. Sadly, though, I found that by a mere two weeks or so after cracking open the first bottle, some of the aroma was already diminished. This was the tipping point that finally pushed me to the dark side; it seemed such a crying shame to waste two to three weeks of amazing aroma while waiting for the beer to properly carb up. And besides, kegging would allow me to keep the beer cold at all times, and would allow me to purge the oxygen off the beer - both of which are supposed to really help with preserving hop aroma.
It took me a few days to get my kegging setup working, and I christened my first keg with an already fermented batch of one of my house beers, my
Thundersmoke Brown Ale
. Soon, though, I was ready to brew my first batch to really be earmarked for kegging. Naturally, it was pretty obvious that this would be an IPA; I wanted to see all of those kegging advantages really put to the test.
At first, I strongly considered brewing that favorite IPA I mentioned earlier in this post. However, that one relied on El Dorado and Motueka hops, and I just so happened to have a sizeable amount of some other great varieties on hand. Three pounds of great hops, to be precise.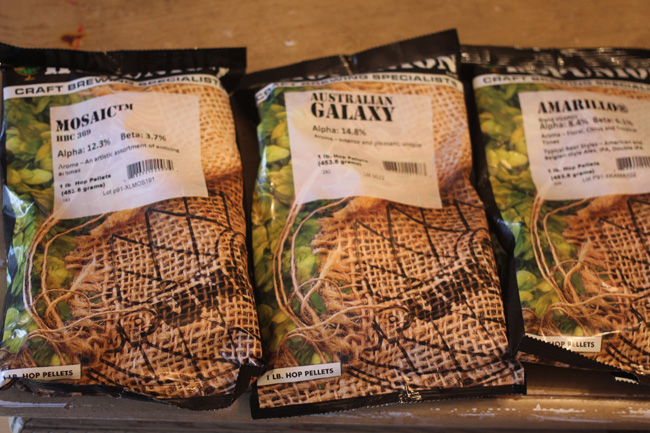 Three pounds of awesomeness.
You see, I tried to make sure that our judges for the 2015 BrewUnited Challenge were taken care of with at least a couple of tokens of appreciation - and one of those tokens happned to be few ounces of the judge's choice of Amarillo, Galaxy, or Mosaic hops. However, I ended up overestimating the number of judges we would employ, and even after upping the amounts of hops that judges got (and giving some hops away as random prizes to contest entrants), I still had a pound of each in my freezer. It seemed a crying shame to leave them sitting there, unused... and so, I started playing with recipe ideas.
Before long, I decided that it would be fun to take a sensible recipe for a highly hopped beer... and ramp it up to eleven. I would put together a fairly simple grain bill with a little maltiness (I like a little malt to balance my hopwater, thank you very much), go with a small bittering charge via first wort hopping, add a little late addition, a big whirlpool addition... and an absolutely
ridiculous
dry hop (to the tune of ten full ounces). I scaled the batch size up to six gallons, as I knew that I would lose a lot of beer to hop absorption, but even so... the full pound of hops I settled on seemed a little nuts. But hey, this would be a New Year's brew; with the hops I had at hand, a little excess just seemed to be in order.
My hope was for an IPA with a little complimentary malt body, but I wanted the star to be fruity hop flavor and aroma, with some supporting piney/spicy aspects. I chose to use my Mosaic as the bittering hop, but after getting lots of advice about how Mosaic can be a little overpowering, I decided to use the Galaxy and Amarillo at two parts each per one part of Mosaic in the rest of the applications.
Here's the recipe I ended up with.
Share this recipe on reddit
Batch Size (gallons)
6
Efficiency
74%
Recipe type
All Grain
Style
14B. American IPA
Original Gravity
1.063
Final Gravity
1.013
ABV
6.56% (basic) / 6.57% (advanced) [what's this?]
IBU
71.7
Color
6.5 SRM
Boil Time
60 min

---

Yeast
East Coast Yeast ECY29 (North East Ale)


---

Fermentables

| | | | |
| --- | --- | --- | --- |
| Name | Amt | Pct | SRM |
| Pale Malt, Golden Promise | 12 lbs | 87.3% | 2.5 |
| Weyermann Munich II | 1 lb | 7.3% | 0 |
| Honey Malt | 12 oz | 5.5% | 25 |

---

Hops

| | | | | |
| --- | --- | --- | --- | --- |
| Name | Amt | Time | Alpha | IBU |
| Mosaic (First Wort) | .5 oz | 60 | 12.7% | 17.8 |
| Galaxy (Boil) | .5 oz | 10 | 14% | 7.1 |
| Mosaic (Steep/whirlpool) | 1 oz | 20 | 12.7% | 9.8 |
| Galaxy (Steep/whirlpool) | 2 oz | 20 | 14% | 23.6 |
| Amarillo (Steep/whirlpool) | 2 oz | 20 | 8.5% | 13.4 |
| Mosaic (Dry Hop) | 2 oz | 3 | 12.7% | 0 |
| Galaxy (Dry Hop) | 4 oz | 3 | 14% | 0 |
| Amarillo (Dry Hop) | 4 oz | 3 | 8.5% | 0 |

---




for complete recipe (with details like mash and fermentation temps), click here
Incidentally - if you've never tried honey malt, you really ought to do so... it's magical stuff. And Golden Promise is just a delicious base for pale beers. It's a subtle variation on Maris Otter - less nutty, maybe a tad sweet - but more flavor than plain old two row. The more that I brew with it, the more that it threatens Maris Otter as my favorite base malt.
Brew day itself went shockingly well, considering that *I* was in charge. I had a target mash pH of 5.34; at the end of the mash, I measured 5.32. The boil itself went really easily (for once), and my three boys loved being able to add so many hops (easily their favorite part of brew day). I very slightly undershot my gravity - which is really rare for me - but considering that I nailed my target volume and finished with a temperature-corrected gravity of 1.061 (versus my recipe target of 1.063), I was quite fine with it.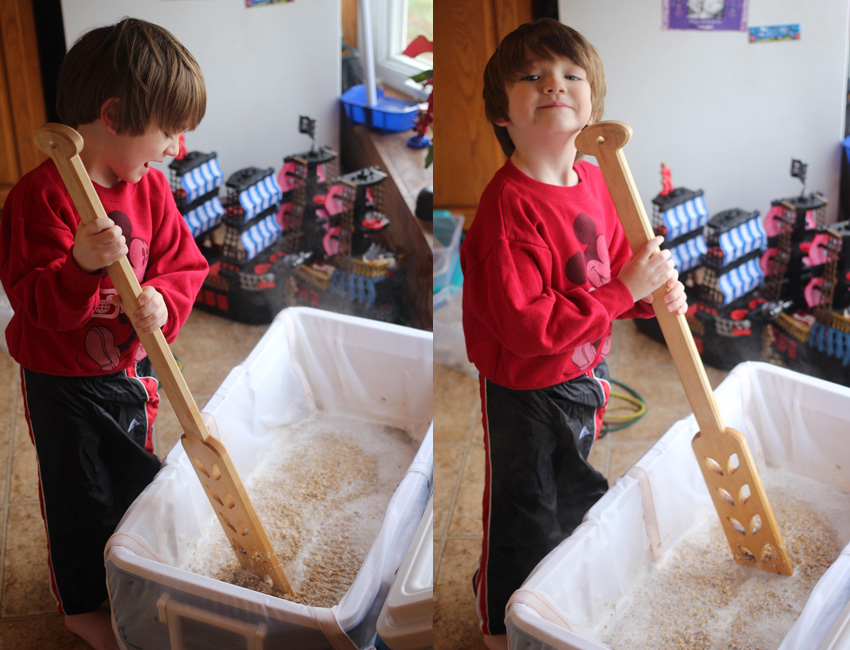 Silas, my four year old, demands to help stir the mash. He's definitely my biggest brewing buddy. (pic links to my review of the Brew Bag)
I dialed my fermentation chamber to 72 degrees F in an effort to hopefully coax a little extra fruitiness from the Conan yeast (so as to compliment the fruity hops), and let things go. From the get go, I felt like I had something cool - the kettle had a huge hop aroma, and walking within ten feet of the fermentor gave you a great whiff of hops.
After five days, I added my massive dry hop, as well as a couple of ounces of table sugar solution - the idea behind the latter being that the tiny fermentation kicked off can help to scrub any introduced oxygen from the dry hop. I don't know that it truly does much, but the IPAs I have done this way have turned out really well, so for the foreseeable future, I plan to stick with the technique.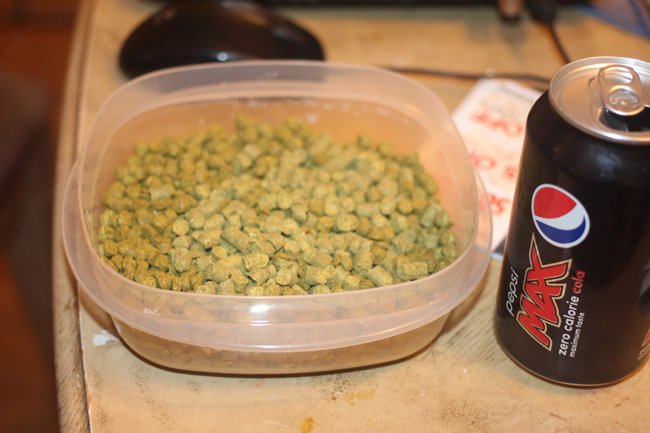 You call that a dry hop?
This
is a dry hop! Soda can for scale.
After three days of dry hopping, I started my cold crash, adding gelatin the following day (once the beer was down to just under forty degrees F). Two days later, I kegged this baby up - and yes, I lost some serious volume to trub and hops - I ended up with a little over four and a half gallons of glorious hop-infused wonder. My final gravity was 1.015 - a point or two higher than I had expected, though that didn't bother me at all. Conan is a funny yeast; it finishes a little higher than many other yeasts, yet manages to really accent hops, and comes across as dryer than the hydrometer suggests. Once again, the hoppiness really just exploded out during the racking process; I've never experienced so much "ambient" hop aroma when dealing with a beer.
A day after kegging (at 30 psi and 38 degrees F for 24 hours, then dialing down to around 13 pounds of pressure), I pulled my first fresh pint of IPA in my life.
Holy. Cow.
It was a tad flatter than I would have liked - I have since learned that, at least for my tastes, 40 psi for 24 hours, then setting to 15 psi is closer to my desired carbonation level for IPAs. But wow... that insane hop aroma punch! You didn't have to put your nose above a glass of this beer; you could easily smell it from across the table.
Aroma mission
accomplished
.
Now, to be totally honest, the beer didn't turn out exactly like I had planned. Yes, the malt body was pretty much exactly what I had envisioned, but early on, at least, the dank/piney hops really dominated everything; the fruity aspects were very secondary. After just a week, though, the beer began to change a bit, and by the time it was a couple of weeks old, the balance had shifted towards the citrus/grapefruit end of the hop spectrum, with the dank/piney stuff flip-flopped to the supporting role. This thing is dangerously drinkable, too.
My first ten or fifteen pints were pretty darned cloudy, but time, cold, and gelatin worked some serious magic - check out this crystal clear beauty!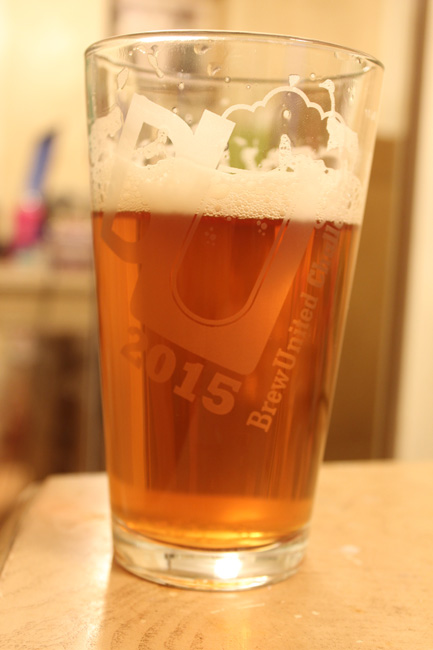 My answer to those who claim that gelatin doesn't do
that
much. Actual beer even clearer than my poor photo skills show.
So... was it worth it? Would I do it again?
Absolutely yes, and yes.
I won't pretend that such excess is necessary, and I doubt that I would build a recipe exactly the same way if I was just running to the LHBS to pick up ingredients. If I brew this same beer again, I will almost certainly change the hop percentages to a ratio of three parts Galaxy, three parts Amarillo, one part Mosaic - if not a four/four/one mixture. But that is a personal taste thing more than anything else; I have a buddy that loves dank, piney IPAs, and he just raved over this beer. I've shared it pretty extensively, and the reviews have been pretty universally strong.
There is one question that brewing this beer made me really wonder about, though. Is there such a thing as too many hops in one batch of beer?
We may never truly know.
Permalink
Tags for this post: hops, IPA, pound, heavily hopped, dry hop, aroma








Please support BrewUnited by using our Amazon affiliate link when doing any shopping there - be it for homebrewing or for your regular shopping!


1 Comments
---
Now that you are kegging, and obviously like clear beer, you might try adding your gelatin when racking to the keg.
My first few times using gelatin, I added it to the fermenter about 48 hours into my crash, but it never really seemed to do anything. I'd still wait 2-3 weeks until my beers cleared on their own while in the kegerator.
First time using gelatin in the keg, I threw it in the keg just before racking my cold beer into it, and bam. 24 hours (and 40 psi) later, I set to 13 psi and pulled a rather murky pint (presumably the gelatinous mass of hop trub from the bottom of the keg), but the next one right after was crystal clear. Could read the newspaper through it. It was a recipe similar to yours that had 15 oz. of hops.
Just thought I'd share. Thanks for the recipe. I think I might start skipping all the additions between 60 and knockout, as you have. Adding hops to an IPA during the boil seems like a useless step anymore.
Cheers!
posted by
ryanp5579
on 3/08/2016 at 04:02:36 PM
---