This is my second batch of beer in bottles, and even though I have had to live through the irritation of soaking and scrubbing to remove my other labels (only the first one peeled off easily), I still think that having cool custom labels is worth doing. I put time and effort into creating a beer that tastes great; to me, it is worth some hassle to ensure that it looks great, as well.
I completely understand why many homebrewers use plain bottles and simply sharpie their bottle caps, but I get a sense of pride when I put an attractive bottle in someone's hand. Call me silly, I don't mind.
These labels were created for my Belgian blonde ale (a Leffe clone). I wanted to stay with my Conferedate dragon motiff, but I also wanted to at least touch on the feel of Leffe, which is an abbey ale. The artist (Lyra Logan, who did the logo for this website) and I went over this, and we came up with using the dragon with a stained glass window feel. She came up with the parchment style background, which works really well (in my opinion).
I personally think that these turned out somewhere around
amazing
. If I saw one of these on the shelf in a store, I don't think that it would look out of place.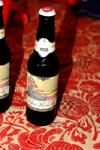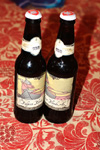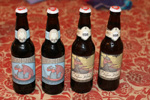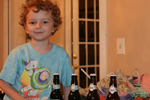 For reference, my labels come from onlinelabels.com (then go through photoshop and an inkjet printer), and my custom bottle caps are from bottlemark.com.
Permalink
Tags for this post: custom, labels, beer, bottles, belgian, blonde, ale, leffe








Please support BrewUnited by using our Amazon affiliate link when doing any shopping there - be it for homebrewing or for your regular shopping!


2 Comments
---
Those are some awesome labels! great design and artwork. It really gives the beer that little extra something that shows you take pride in your art and hobby. Good stuff!
posted by
TheHopyard
on 6/28/2012 at 01:20:11 PM
---
Hi, just soak your bottles in oxiclean for a day or two. I do it in an old cooler that I keep by the utility sink. After a couple of days, rinse well and hang on a bottle tree to dry. They're ready for you to sanitize on bottling day!
posted by
Jim
on 7/01/2012 at 12:42:18 PM
---