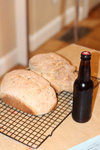 It has become a required ritual that I bake bread with the spent grains from brewing my beer. Of course, the final flavor varies a bit due to the variances in my grain bill for the beer in question, but by and large, I end up with a dark, chewy bread that compares favorably with any nice restaurant appetizer. Expect a nice crusty outside with a moist center.
Ingredients:
3 cups spent grain (finely chopped in food processor to cut down on pieces of husk in your teeth)
1/3 cup of water
1/4 cup sugar
6 cups all purpose flour
2 tsp salt
1 egg (beaten)
1/4 cup milk
1 packet dry bakers yeast
honey to taste
Instructions:
mix yeast, water, and sugar in a bowl to activate your yeast. Use warm - not hot - water (maybe 100 degrees F). Allow 30 minutes for yeast to activate.
Add your yeast starter, egg, salt, spent grain, and milk in a large mixing bowl, along with the bulk of your flour.
Mix this up well, adding flour until you reach a consistency that allows you to handle the dough with floured hands without it sticking to you like crazy. You may end up with more or less flour than called for above, depending on the humidity and such.
Add honey to taste. I typically add 1/4 to 1/2 cup.
knead the dough until smooth and no longer sticky. I personally put this into my food processor with a bread blade, and spin it on high for about 90 seconds. You may have to split the dough to get it all to fit.
place dough into a large oiled bowl and cover with a damp towel. Wait for the dough to rise and double in size, then punch it down. A perfect location is to turn your oven on, then put the bowl on top of the stove. The warm environment will help the yeast to rise faster. This can take a half hour to an hour.
Split the dough into loaves, and place into oiled bread pans (if you don't have a bread pan, use a cookie sheet with cornmeal sprinkled on it).
Allow dough to rise again (can take another half hour), the score with a knife as you see fit.
Bake @ 375 degrees F for 40 minutes, or until a knife inserted into the center comes out clean.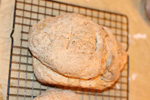 Be sure to cut and serve the bread while it's hot - I love to butter it, myself. this bread has a fantastic shelf life; if you wrap it in saran wrap, it will stay good for several days. You can always warm slices in the microwave for ten seconds to approximate that hot wonder of the initial slice.
Permalink
Tags for this post: spent, grains, bread, grain, bread recipe, baking, beer, beer bread








Please support BrewUnited by using our Amazon affiliate link when doing any shopping there - be it for homebrewing or for your regular shopping!


2 Comments
---
Do you use wet or dry spent grain?
posted by
tailgatingtiger
on 1/26/2015 at 03:37:26 PM
---
Hello,
I use my grain as is - wet. I know that some dry it first in the over, but I've had good success without doing so.
posted by
homebrewdad
on 1/26/2015 at 03:40:23 PM
---