I'm a wordy SOB, but this is the longest post I've ever made. Ye be warned. It is chock full of fun photos (and more); here's to hoping you enjoy it.
A few years ago, I started reaching out to various brewers I had encountered online with the idea of building the core of a great community. My criteria were pretty simple - these brewers needed to have demonstrated some good
knowledge
about brewing, and they needed to have shown themselves to be friendly, cool people. We put together an email list of those interested, and used that list to communicate about brewing, about the best ways to build our various blogs, about life in general. We lost a few members (largely due to them not being able to deal with the crush of emails we generated), we added a few members. Along the way, we cultivated some legit friendships.
For the past two or three years, my buddies on the BrewUnited email list have been trying to get me to attend NHC, but I'm the sort of guy who will literally wear work shoes until they have holes in them... I just could not justify the sort of financial outlay that attending would require.
Would I like to go? Sure. But I was honestly okay with living vicariously through the experiences of others. When the other guys were discussing proposals for NHC presentations and trying to talk me into submitting my own, I spoke in terms of "maybe" and "someday". And that was fine.
Lucky for me, my friends had other ideas. To start with, my good friend Greg gifted me an AHA membership back in January. Then, the day before my birthday, the guys scheduled a video chat - something we do from time to time for the purpose of discussing beers and swapping insults. My wife was insistent that I take time away from my normal evening family routine to join the guys, so I did. They wished me a happy birthday, and then, Marshall Schott of Brulosphy shared his screen - which contained a screen print of my flight itinerary from Birmingham to Minneapolis.
That's correct - for my birthday, my friends had chipped in the cash to pay for my flight, my hotel room, and my admission to the 2017 NHC, and had coordinated with my wife behind my back. Needless to say, I was floored.
2017 has been a little rough for me. I have struggled with some feelings of failure, of low self worth, of feeling like I have no friends. My wife has accurately pointed out to me recently that not only do I have real friends, but that I have some pretty exceptional friends - as evidenced by their actions here.
In the ensuing months, they hyped the trip more and more; I kept hearing about what a fantastic time I was going to have (and how intoxicated they were going to be sure that I got). I confess, I worried a lot - I would be leaving my wife alone for three days to handle six kids all alone. To be honest, she was a bit worried, herself, but she kept encouraging me to go... and soon enough, the day arrived.
Thursday, June 15th


My oldest son dropped me off at the airport about an hour before my 9:50 AM flight was due to leave, which was plenty early; Birmingham has a fairly tiny airport. I opted for a quick snack instead of a real breakfast, and earned a lesson in airport economics along the way - my pouch of tropical trail mix, roll of Spree candies, and twenty ounce bottle of Coke Zero added up to the tidy sum of $12.39. Wow.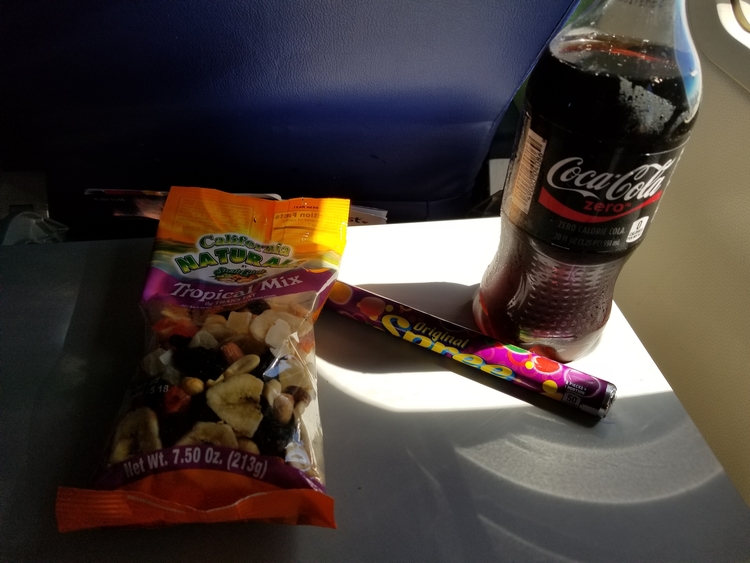 Totally worth $12.39
The flight to Chicago was pretty uneventful, and I had no trouble with the layover or plane change. The flight to Minneapolis was quite a bit more turbulent than my first leg had been - I was rather green by the time we touched down. It was about 2 PM at this point, and was pretty anxious to get on to the conference - my buddies Marshall Schott and Malcolm Frazier were presenting along with Denny Conn and Drew Beechum during the 3:15 time slot. Surely this wouldn't be a problem to actually make, right?
Ha ha ha ha ha! If you are familiar with how my brewdays tend to go, understand that those phenomena aren't limited to brewing - that is very much how my very life also tends to go.
I had already decided that a $40 cab fare was ridiculous, and that I was also not interested in a $20 Uber. Greg let me know that the train ran from the airport for $1.75, and let off six blocks or so from the hotel. Bingo, we had a winner! I departed baggage claim and headed for the train.
Of course, it was apparently too much trouble for me to pay attention to the signs, and I naturally got on the train headed the wrong way. I realized this before the first stop, but still had to exit and wait for another train. Okay, this was a small delay, but I still had plenty of time. My friends texted me that they were saving me a seat right in the front.
So of course, I got a little mixed up and exited before my station (got off at Franklin - not Government Plaza - like some sort of dope). That meant another ten minute delay (in a slightly rougher part of town than I had expected to be in). When I finally made my station, I found that I had missed my hotel shuttle by about ten minutes; rather than wait another twenty minutes for the next one, I hit the pavement - discovering along the way that Minneapolis blocks aren't exactly the shortest in the world.
I finally made it to the hotel, dropped my bags (thanks, Greg!), walked the block to the convention center, and got checked in. Incidentally, the Minneapolis Convention Center is
massive
- you could hide an aircraft carrier in that building!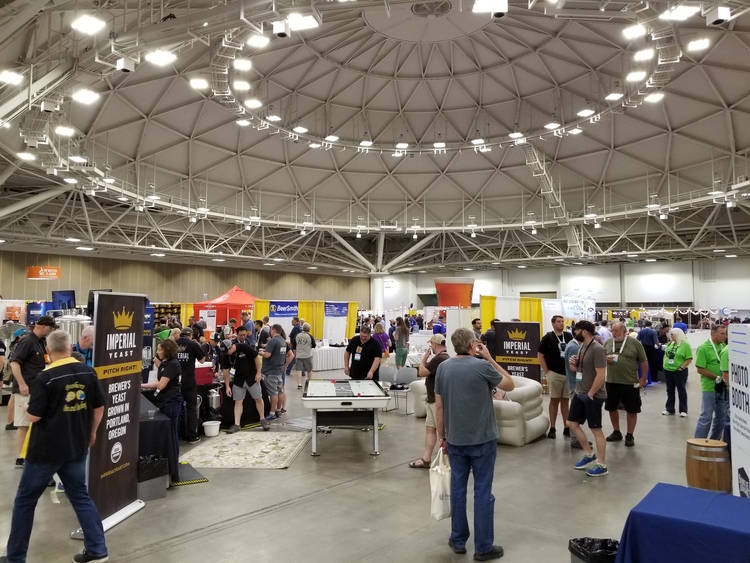 The expo floor was
massive
, but took up a tiny portion of the total convention center area.
A lot of time had been wasted, but I did at least arrive for the second half of "Hold My Beer and Watch Me Science". Brian Hall greeted me in the aisle with a hug, I found my reserved seat, and the hugs started all around. This would be the theme through the con - I hugged so many bearded men (and even those that sadly lacked facial hair) during the three days of NHC! The drinking also began immediately, with my tasting glass being twice filled with Helles before the twenty or so remaining minutes in the panel expired.
What I caught of the panel was interesting and fun - it was entertaining to see Marshall couch everything in terms of "this is my experience" while Denny was very much about informing people on the right way to do things... which Marshall would immediately question (in a friendly manner, of course).
After the panel, our group split up, with parties heading to Chipotle or Brits Pub for food. I found myself in the former group along with Eric and Rebecca Cousineau, Derek Springer, and Sachin "Chino" Darji. However, they were intent on getting food to go so that they could attend the keynote address, whereas the other group was planning on beers and hanging out. With no offense intended to anyone, the keynote didn't sound super appealing at that point... and hanging out was exactly what I was looking for. I excused myself with the blessings of the smaller group to meet Marshall and the rest of the hoodlums at Brits; Chino decided to come along. It was during this exchange that Chino presented me with a large Visa gift card (plus a little cash) that the group had all chipped in on. Not only had they paid to bring me to the convention, but they had given me more money than I would need for all of my food, drinks, and incidentals.
Holy cow. Some friends, indeed!
When I arrived at Brits, Marshall insisted on buying my first beer... and man, did he make it a good one. Fullers Brit Hop, dispensed on a beer engine. If you ever get the chance to sample this one, take it - a wonderful boquet of hops in both aroma and flavor, complimented by a surprisingly flavorful, bready malt backbone. Somehow, this beer is packed with flavor, even though it only weighs in at 4.1% ABV. Seriously, this beer is
amazing
.
It took some time to get us seated (what with our party of roughly fifteen), but it was worth the wait. The food was excellent, the beer was excellent, the company was outstanding. I had the chance to meet Jeff and Isaac of
Bootleg Biology
. I also had the opportunity to see Marshall at work - shmoozing the staff and owner of Brits, and managing to talk them into giving him an employee-only tee shirt (after filling out a job application filled with nonsense such as "Date: yes, please. High school: Sucked. College: Sucked more." and so forth).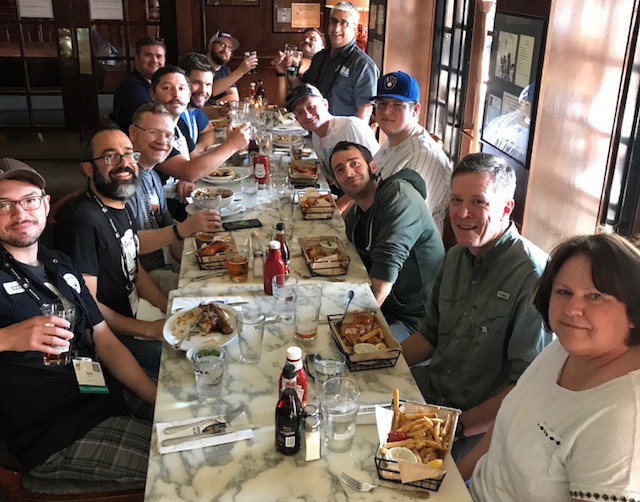 Most of our crowd at Brits - maybe two thirds of the people who hung out together through NHC.
After Brits, the keynote drug on a little long, but after it wrapped, several of us headed up to the
Milk the Funk
meetup, where I had my eyes opened by a multitude of awesome sour beers (including a few I'm not sure I'm enough of a man to drink). I got to match another online name to a real life face (shout out to Collin of
Gremlyn's Beer Blog
). Major kudos here go to Brian, Malcolm, Derek, and Collin for their awesome showings.
From MtF, we headed down to the Kickoff Party (aka pro night). This was a lot of fun in and of itself - I got the chance to sample beers from several breweries I had zero exposure to. While some beers were naturally better than others, I recall an overall positive impression of the various booths that I visited. Sadly, a lot of those beers have run together in my mind since then (I blame three days of drinking for that), so I can't honestly recall any that specifically wowed me outside of Utepils - they did nothing but German lagers - and did them well.
After pro night, it was time to start organizing Ubers. There had been talk leading up to NHC about karaoke - and Marshall had located a sushi/karaoke place and reserved their VIP suite. Seeing as how the room held thirty, we tossed a few invites, then Marshall basically opened the party up on social media to any NHC attendees that wanted to come.
Karaoke was probably the highlight of the trip. I can say without reservation that this was some of the most fun I've ever had in my life.
The place was getting ready to close - at least on the front area where sushi was served - when we arrived. They took us into the back, and it was like stepping into another world. Glossy, glittery black tile covered the floor and walls, and we were led down a corridor with various numbered (soundproof?) rooms that evoked a feeling that happy endings might be found here in other circumstances. One right turn later led us to the VIP suite, decked out with white leather furniture, dual big screen TVs to act as monitors, a karaoke machine in the corner that also allowed smartphone Youtube streaming, and dual microphones.
Marshall and the Bru Crew got to work early, with some good (and some terrible) renditions of various songs. Sapporo bottles flowed in abundance, and Marshall's buddy Jersey (an honest to God fighter pilot) insisted on sake bombs all around. There were some notable performances - Marshall commanding the room at pretty much anything, Rebecca getting steamy with her husband, Eric, Jersey tossing down a beautifully sung - and absolutely filthy - parody of a John Denver's "Annnie's Song", Matt Brown killing "Bohemian Rhapsody". The 2nd Rule of Brulosophy Karaoke Club was wisely introduced -
everyone must sing
. Good, bad, whatever... everyone must sing.
Still, I found myself incredibly nervous for some reason, and couldn't think of anything to sing. But after Franklin sang punk rock and Mike rapped, I decided to throw caution to the wind. I knew a song that I could really belt in my car. A song that, if I pulled it off, ought to go over well. My turn came, and I informed Jersey the DJ of my choice - "Smells Like Teen Spirit" by Nirvana.
If we're going to do this, let's do it right. I headbanged the intro (losing my glasses and popping a lens out in the process). When the chorus came, I gave it my best growly roar, and the place just erupted.

Let's rock this place.
I lost my voice; that didn't matter, I just screamed through the song. I couldn't talk when it was over, but that also didn't matter... I was hugged repeatedly. I
belonged
.
The night went on. More people arrived (including the awesome Clay and Jeremy from
JaDeD Brewing
and Robb Burden of
Southern Hills Homebrew Supply
), more people sang. We drank all of the Sapporo. The staff resorted to Heineken, then Bud Light and Coors Light. When that was all gone, they brought us
warm
Bud Light and Coors Light. We didn't care. They brought snap peas and plates of rice without utensils, which were eaten like savages.
I got enough voice back to sing again, this time going with "More than Words" by Extreme for a change of pace. Marshall hopped up and joined me for part of it in a soulful duet.

Yeah, that happened.
At about 1:30 AM, Matt Del Fiacco finally drug himself to the karaoke place... something about "having to drive lots of beer to the con". At the end of the night, I closed with "Desperado" by the Eagles (sorry, no video of that one), with Jersey backing me up with some absolutely gorgeous harmony. I was repeatedly told how I had "won" karaoke... yeah, it felt amazingly good. Even if I did have to prop myself against the wall a time or two.
Back at the hotel, several people hung out with Mike and I in our room. We ate sharp cheddar cheese, homemade rice krisky treats by Brian, strange Canadian snack foods (Marshall ate fistfulls of popcorn and cheese curds like some sort of starving animal), and shot the breeze until people (*cough* Rebecca *cough*) started falling asleep.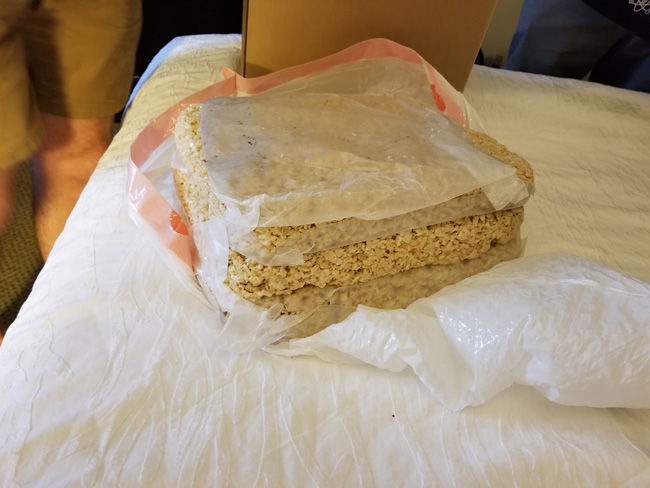 Brian brought an absolute
brick
of rice krispy treats that he had made - by the time this photo was taken, one entire layer had been consumed!
With that, day one was done... and I went to sleep with the room slowly rotating.
Friday, June 16th


I awoke with only a minor headache, which ibuprofen handled easily. Mike and I headed to the convention center in time to catch Derek and Brian present "Lagers to Lambic: Hard Stuff the Easy Way". Talk about a great job... these guys had fun interplay, they each knew the material so well, they gave great tips.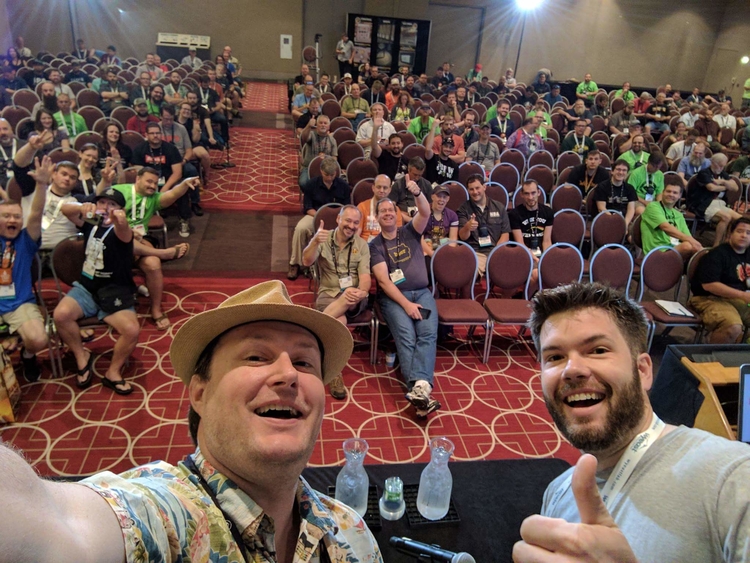 I know these guys! The focus is obviously on Derek and Brian, but if you look in the front left, you'll see me, Marshall, Matt B, and Jersey.
From here, it was time to head back to Marshall's favorite location - Brits. More great food, more great beer, more laughs. We headed back, but with two sessions being run by our group, it was tough to decide... so we did both. We started with "My Milkshake Brings all the Boys to the Yard: Brewing New England IPAs" by the ever present Malcolm Frazer and Brian Hall. Another great talk, though I was familiar with a lot of the content due to the BrewUnited email list (this has been a favorite topic of late).
Halfway through, we popped over to listen to Matt Del Fiacco present "Against the Grain: Wood Aging and Barrel Alternatives". Matt absolutely
killed
this workshop, coming across as the fun professor who knows so much more about the subject than anyone else in the room.
Then it was time for dinner ahead of Club Night. The original plan had been to head to the Butcher and Boar Beer Garden, but Marshall and some of his inner posse were too busy networking to make it right away; by the time they arrived, the place was packed, so part of the group went next door to Bulldogs. Those of us who remained were treated to delicious food - Mike and I could not resist the "beer, burger, and a shot" combo, even though we knew club night was coming. But c'mon... if a burger is $10, choosing to not spend $15 to also get both a beer and a shot feels like wasting money. I was warned that a shot was a bad idea ahead of club night, but I just couldn't pass up the deal.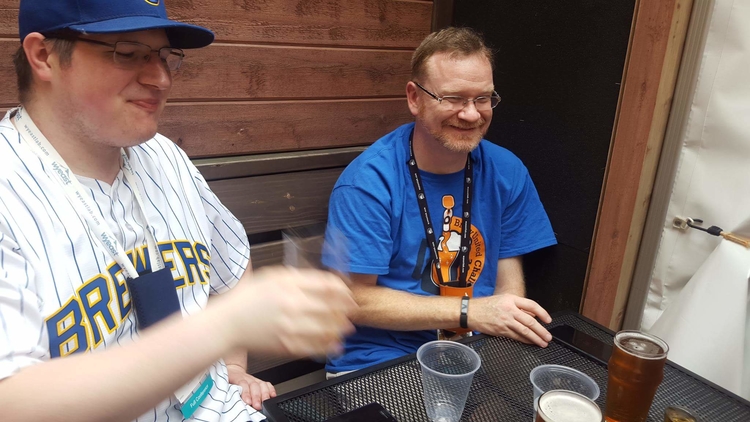 The looks on mine and Mike's faces after doing that shot - courtesy of Brian.
Club night was something else. Creative, themed booths set up as far as the eye can see.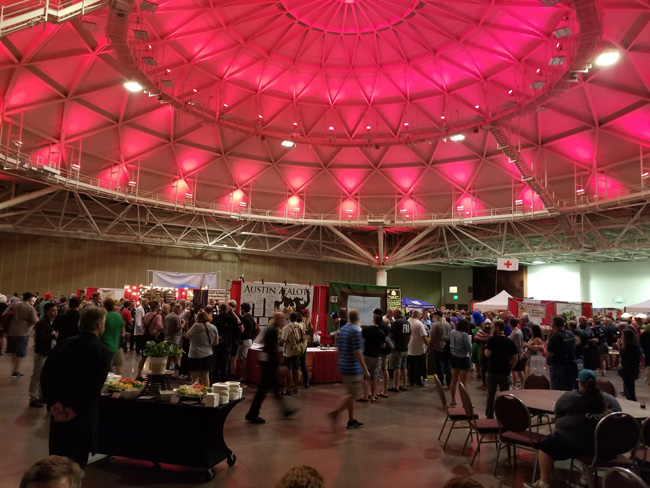 Just a few people were here. This was taken from a quiet corner.
Throngs of people in all sorts of costumes (including Greg wearing his Homebrew Hero cape from the 2015 BU Challenge).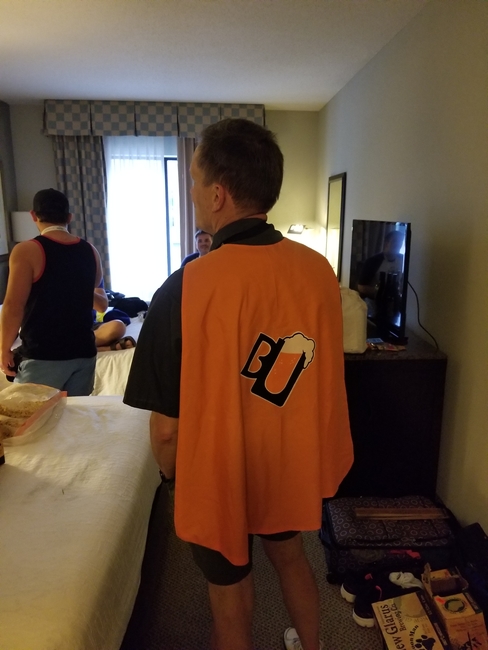 Greg Ellis, Homebrew Hero
A giant paper mache pig with picnic taps for teats.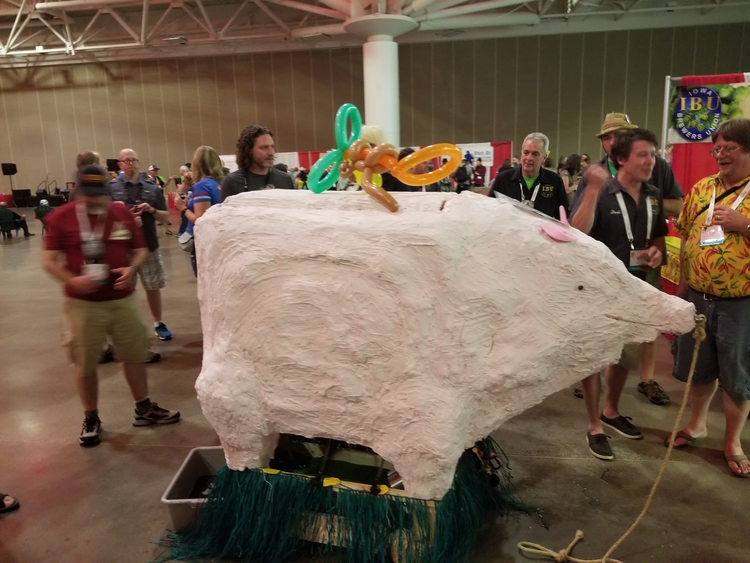 Did you think I was kidding?
And so much good/interesting/strange beer... and awesome people!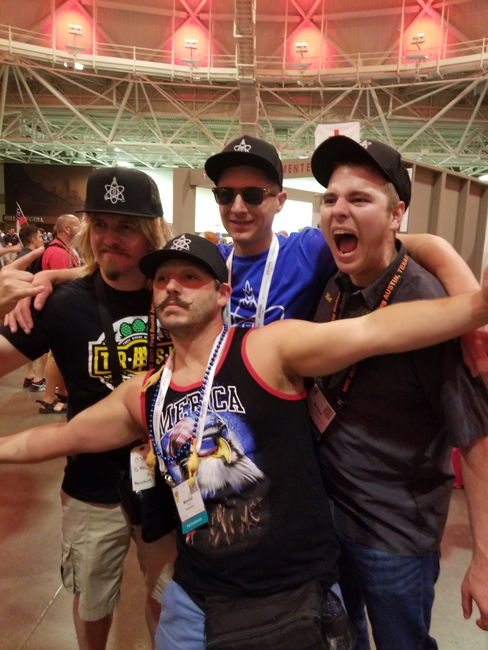 The Brulosophy crew - Malcolm, Jake, and Matt D... with Marshall front and center (of course)
Some memorable brews:
The "liquid Mounds Bar" - dark chocolate and coconut in a beer. Strange, but super tasty.
The booth with Trump-themed beer names, where I could not resist getting a "Golden Shower"
The waffle beer at Annie Johnson's club booth. I went with the waffle, as chicken beer and smoked brisket beer sounded horrifying... and by God, the beer tasted like waffles and syrup. In beer. Oi.
If I was the "winner" of karaoke, Matt Chrispen was the "winner" of club night. This guy brought a backpack of his meads with him, and sat down at a table to pour them to those lucky enough to be there to sample.
Coming in, I wasn't sure I was a big fan of mead. The blackberry, blackberry ginger, blackberry something else, ancho meads... were all just amazing. I truthfully informed Matt that he had ruined club night for me, as nothing else could hope to compare. He humbly directed me to his club's booth, where they guy who taught him all about mead was pouring. That stuff was very good, but in my estimation, the student had surpassed the teacher.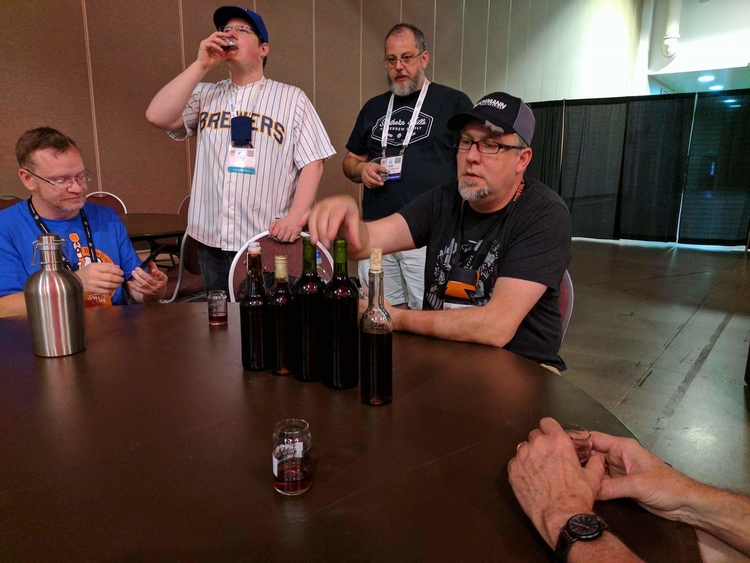 The mead king, holding court. Left to right: me, Mike, Robb, Matt C (the mead king), Greg's hands.
Along the way, I met tons of people (some of whom I had met the night before at karaoke). I shared a growler of my own rye IPA; it seemed well enough received, as people made nice comments and did not dump it. It was also a really fun experience to have people recognize my name. "Oh, you're Homebrewdad! I use your calculators all the time!" That was pretty great.
11:30 PM came and Club Night was closed down to the resounding boos of the crowd. Fortunately, Mike had brought two cases each of New Glarus Moon Man and Spotted Cow, so we headed back to our room for an after party. Which was a little late getting truly going, since Marshall was once again networking (and had half the beer in his fridge), but we had a great time, regardless.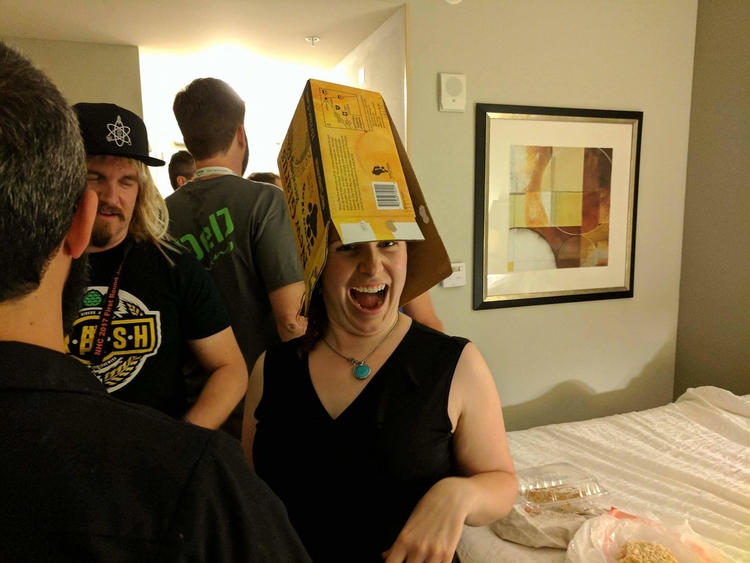 "The" place to be - just ask Rebecca
The Bootleg Biology and JaDeD Brewing guys came to our room, as did Drew Beechum; I hooked the JaDeD guys up with BrewUnited tee shirts (which they wore, much to Marshall's consternation).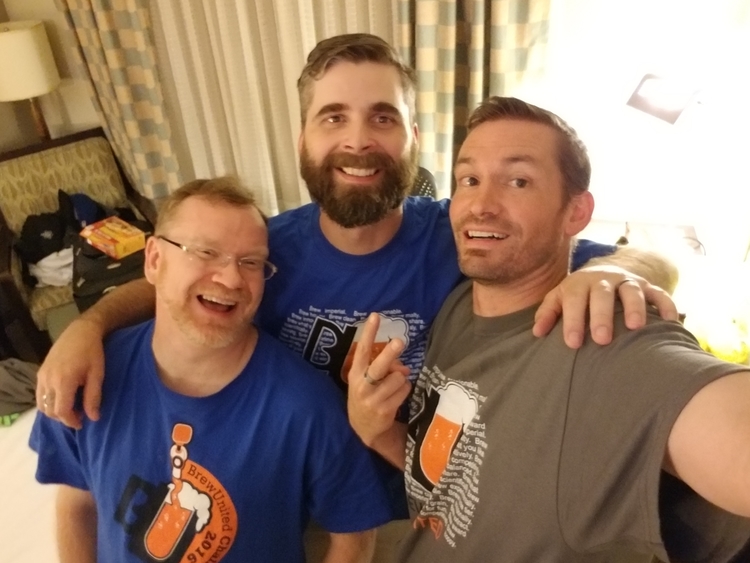 Me, with Jeremy and Clay of JaDeD - wearing BrewUnited gear.
Marshall stood up on a bed and gave a drunken speech full of how much he loved us all, singling every single person out one at a time. It was great.
Once everyone left, I again went to sleep with the room rotating.
Saturday, June 17th


We had to be up bright and early, as our buddy Chino had the 9 AM presentation of "Brewing When You Have No Time (Getting More Out of Your Limited Brewing Time)". I made it in to the session halfway through, which I had warned Chino would be the case; 9 AM after club night is
rough
. Again, I actually felt reasonably good; a little ibuprofen helped, as did the bag of Doritos that some unknown kind soul had left against our door. The presentation went well, though Chino ran out of time before he could cover all of his material; he kept getting off on scientific tangents, but meh.
I then elected to spend a long time at the expo floor while most of the other guys headed to other presentations, as I had only been able to spend limited stretches there so far. I scored an amazing hop deal from Yakima Valley hops - they had a show price of $20 for pound bags of hops. I was then the master of Plinko, earning two 50% off deals. I picked up a pound of Medusa, and wanted Azacca... but they were out of it. Since they were out, they offered to just let me take the sample bag; I readily accepted (I can vacuum seal at home). So, all told, I scored two pounds of hops for $10 total! Wow.
While I was there I helped myself to an interestingly loaded hot dog - pepper jack cheese, pico de gallo, and some sort of jalapeno sauce - that looked disgusting but tasted
amazing
. I spent time visiting booths, collecting stickers, chatting with reps (many of which had sponsored the BrewUnited Challenge in the past), and sampling a little beer.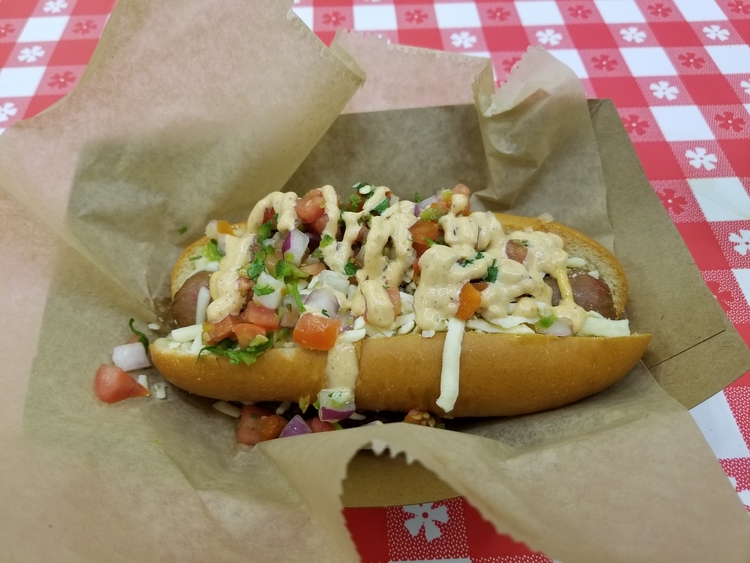 Like I said, it looked a bit disgusting... but was
delicious!
The Amoretti booth particularly intrigued me; they do pure fruit purees and concentrates which are apparently a great fit for brewing... and I have been looking into my first fruit beer. I had already picked up coupons and considered buying a jar or two when they announced that at 2 PM, they would be clearing out inventory as opposed to shipping it back home. The clearance? "Take no more than three items, as it won't be fair to other people if you get more." That's correct - I got three jars of amazing concentrated fruit purees for the low, low price of "thank you".
Mike Koncel spent pretty much this entire time as my partner in crime, even though he wasn't doing much shopping or shmoozing of his own. We did take the opportunity to take a fun photo at the GrogTag booth.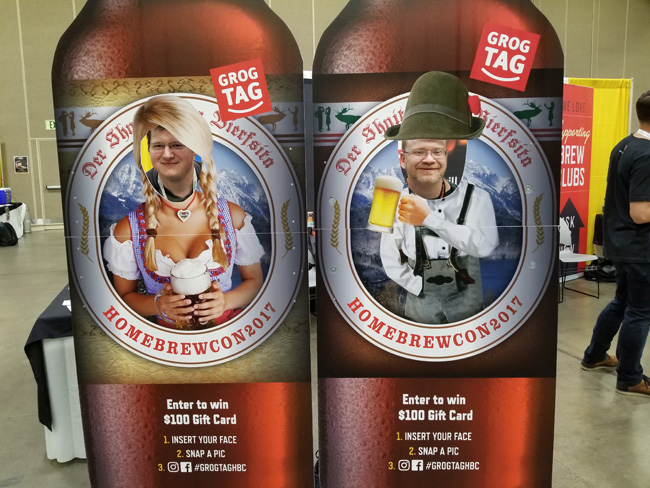 Sadly, he grabbed the better body like a jerk.
The Bru Crew decided to head to Chipotle, but seeing as how I wasn't hungry, I hung out at the expo for a bit longer. I got to meet Dr. Brad Smith, the benevolent figure who has blessed us with BeerSmith, I helped (or tried to help) Rex Slagel sell some
Brew Bags
, I sang the praises of the Hydra chiller by JaDeD.
Soon enough, it was time for awards. Three of our group had advanced to the final round, and Malcolm Frazer won a bronze - our crew all jumped to our feet, as excited as we had won it ourselves.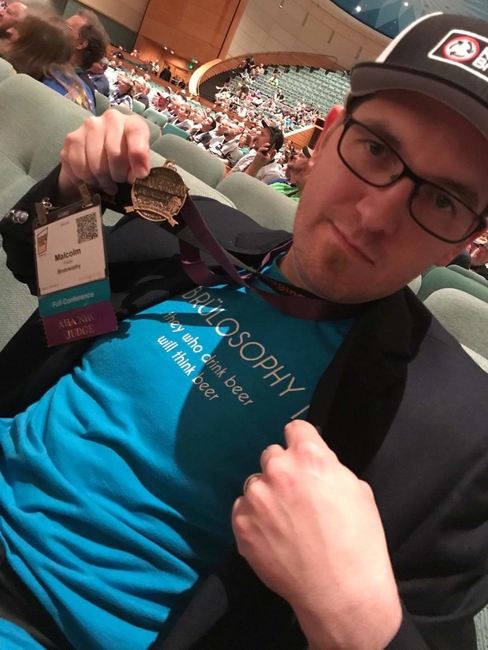 Malcolm showing off his medal. I even got to touch it.
The awards themselves were actually pretty entertaining; it was fun to see the crowd's reaction when the guy from South Korea won gold (everybody went to their feet), then the double reaction when we realized that he was in attendance. QUAFF dominated the club awards, though one guy seemed to plan to catch them all on his own in the mead categories.
The knockout party was... eh, it was okay. I got to meet some other cool people, but a lot of the beer was up and down (in my estimation), though I did have a New World cider that was absolutely delicious; that says something to the level of competition, I suppose.
After a half hour or so into the knockout party, the ubiquitous group text started going off - most of our crew was leaving to go visit a local brewery or three. Thus began another set of epicness.
Highlights of what turned out to be a four brewery crawl:
A really nice Vienna lager and some sour I can't recall at Fair State... plus a pretty bad "Saison" (looked like a wit) and some sort of crazy smoked sour that was just not for me
A long walk, partially in the rain, to brewery number two - with Malcolm flagging down a pickup truck and helping the guy fix where his tow chain was dragging the ground
Me getting on a soapbox to discuss politics and religion with Robb and Franklin while waiting on a food truck
The absolutely SUPERB Japanese food from said food truck
Telling someone that I needed no more beer at Indeed, and being given a half sized beer (which I chugged, because why not)
Buying none of my three beers once we reached Bauhaus - I recall telling people that I now had an idea of how my wife felt, albeit without her sexy body
A pretty close to perfect Kentucky Common at Bauhaus
Being told by Jake and Derek that I needed to go home at midnight, but begging off on the basis that I would switch to water
Actually switching to water, and sticking with that through our next place (this may have saved my life)
Meeting some of the QUAFF guys at our final stop of the night
Some loaded nachos that were either that fantastic, or I was that drunk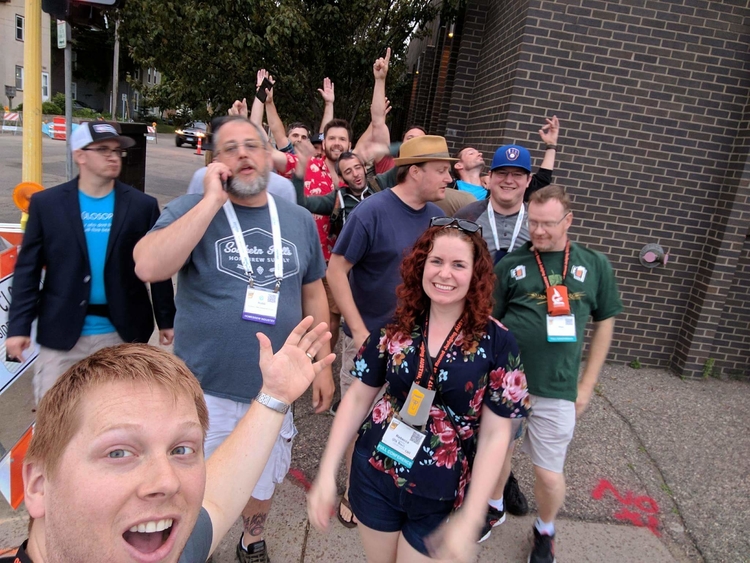 Most of our throng en route to Bauhaus. If you couldn't tell, we were having a blast.
All too soon, it was time to head back to our room. My flight was set to leave at 5:30 AM, and I was concerned that grabbing a nap would potentially lead to me missing an alarm and my flight, so I elected to pack up that night and head on to the airport at roughly 2 AM.
A few more hugs, and the night was done... though I found myself in Marshall's room for a couple of last stories with him, Malcolm, and Mike... and some silly jokes at the expense of the snoring Jersey. Off I went into the night.
I walked the six blocks back, bought my train ticket, and waited. And waited. And waited. After a half hour, I split a Lyft with a guy who had been there over an hour. Unfortunately, I got off at Terminal 1, whereas Southwest flies out of Terminal 2. Lots of walking, plus a tram, plus the train, and I was finally checked in. I did get to enjoy an extra search by the TSA, thanks to the "vegetable matter" they detected in my convention bag... yes, it was the hop samples I'd forgotten to pack into my checked bag.
The next several hours are a blur, as I caught some exhausted, sometimes fitful naps at the gates and flights home. All told, I ended up with around four hours of broken sleep - enough to power me through Father's Day at home. I got hugs from my five youngest kids, we went to Cracker Barrel, they gave me an awesome JBL bluetooth speaker. All was well with the world.
NHC was over, but at the risk of sounding trite... I made some fantastic memories that I will never forget.
Also, I would be remiss if I didn't take the time here to specifically thank each of our lovely crew of degenerates that chipped in on this stupidly amazing gift. The guilty parties are:
* - denotes an awesome person who chipped in to bring me to NHC, even though they did not attend
Thank you all so very much!
In closing... I mean no offense to anyone whatsoever, but I feel pretty confident in this assertion: my friends are, in fact, probably more awesome than yours.
Permalink
Tags for this post: nhc, 2017, homebrew, con, convention, Minneapolis, karaoke








Please support BrewUnited by using our Amazon affiliate link when doing any shopping there - be it for homebrewing or for your regular shopping!


1 Comments
---
I must agree - your friends are awesome!!
posted by
Chal
on 7/09/2017 at 07:31:00 AM
---