First off, I'd like to deviate from my typical ramblings about beer and brewing to celebrate the fact that my family has grown yet again. Since my blog is, in fact, titled "Homebrew Dad", I feel like it's okay for me to brag about that family just a bit.
At 11:17 AM on June the 22nd, 2015, Elowyn Fae - our seventh child - was born. She weighed six pounds, eleven ounces, and was nineteen and a half inches long. I like to say that she was an expedited* C-section, due to the fact that my wife was fairly sick, and the baby was showing some classic signs of distress (elevated fetal heart rate, decreased movement). She wasn't yet thirty-eight weeks of gestational age, and ended up with some minor complications; she had some breathing issues (namely, breathing way too fast), and had to go to the transition nursery for a few hours. In fact, she was a half hour from getting admitted to the NICU, but she finally settled down, and since then, has done quite well.
* - expedited C-section: not a full "emergency" section, as they did the normal prep, gave my wife an epidural, etc. However, they did bump the scheduled C-sections back, and went ahead and took my daughter first, as they were worried that she needed to be born sooner rather than later.
Once we got settled into a normal room, my wife presented me with an absolutely killer gift... check it out.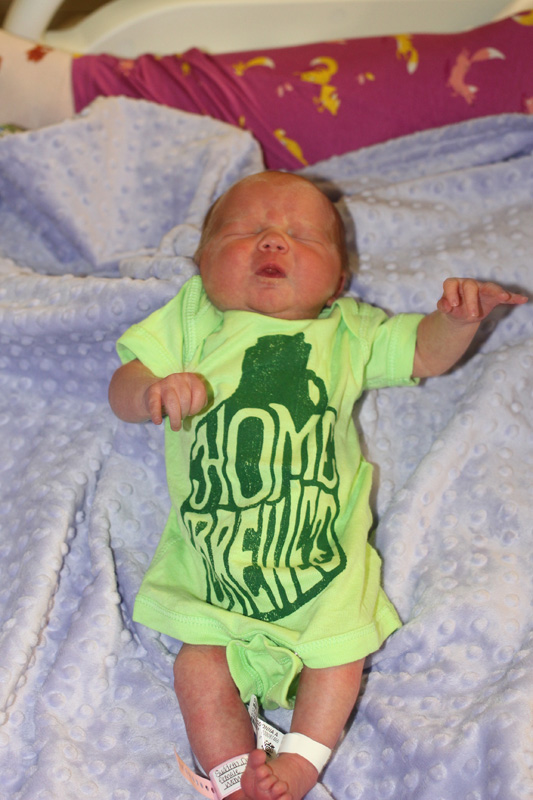 Yes, this is
that
awesome.
If you are having trouble reading it, the onesie reads "Home Brewed". I'd ask if my wife was awesome or what, but the answer is pretty obvious.
If you are curious what seven kids looks like, here you go.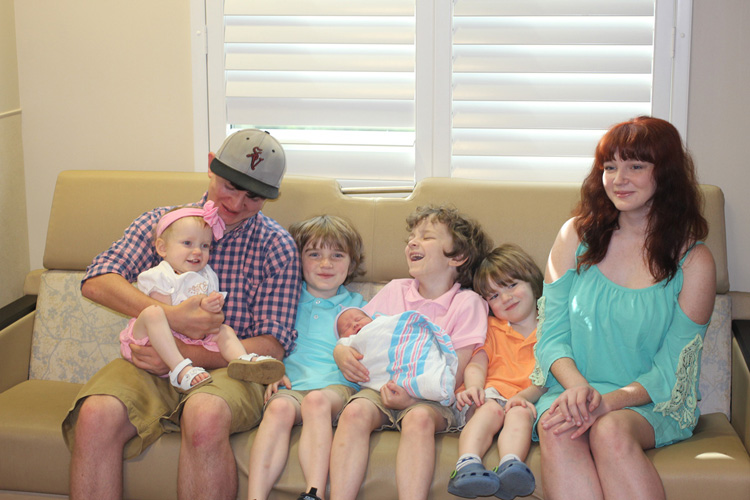 Left to right: Wynter (17 months), Caleb (17 years), Jonah (5 years), Elowyn (newborn), Noah (7 years), Silas (4 years), Emily (19 years).
What can I say? I'm a proud papa. I get the occasional raised eyebrow or internet crusader that is certain I'm responsible for the destruction of the Earth... and those people can take a hike. At any other point in history, I'd be widely regarded as an extremely blessed man, and I fully feel that way even now.
Now, if you are still reading, you'll find me veering back toward my typical ramblings about beer and brewing.
As I sat in the hospital room with my wife (I stay with her 'round the clock until she gets to go home), I let my mind wander a bit. You see, after we went on our run of four consecutive boys, we were fairly sure that we would never have another girl. Now that we've had two girls in a row, the numbers are nearly balanced (four boys versus three girls). I started toying with the idea of doing some sort of commemorative brew, but what would fit the occasion?
This time around, the name of the beer came to me before any of the other aspects.
Three Princesses
. It would so fit my fantasy theme that all of my other beers have in common. I can already see the dragon from my previous labels standing there with three princesses, or perhaps the princesses riding on his back as he flies through the sky. There are so many possibilities! Yet, what sort of beer would fit this name?
My muse stepped in at this point, and the concept leapt into focus. Princesses, of course, are nobility; this beer, then, should feature noble hops. Specifically, the beer should feature three varieties of noble hops. A quick assessment suggested some obvious selections: Hallertau, Tettnang, and (of course) Saaz.
I figure that I'll use some nice Continental pilsner malt (if not a floor-malted variety), and likely some Munich malt, as well. Just because I seem to
be a glutton for punishment
enjoy employing traditional brewing techniques, I'll probably utilize a decoction mash with this one. I'm thinking of a very simple grain bill - maybe nothing but the two grains already mentioned.
The muse is telling me that a rich, malty, amber lager sounds delicious. However, I obviously want to prominently feature all three varieties of hops. I'm figuring that I'll keep the bitterness level in check, but go with some larger late additions - perhaps a nice dry hop - for big hop flavor and aroma. Of course, I've never dry hopped a lager before, and I worry that I'll lose most of the hop goodness with a lager's longer production time. Perhaps I should consider an ale, or (gasp) abandon my traditional lager schedule in favor of Brulosopher's
fast lager method
.
So, the specifics of the recipe are not quite nailed down yet, but I do believe that my next beer is in place. If you have any suggestions, I'd love to hear them! Otherwise, stay tuned - I'll report back as to how this one turns out.
Finally, I leave you with one final image, this one of the three princesses themselves!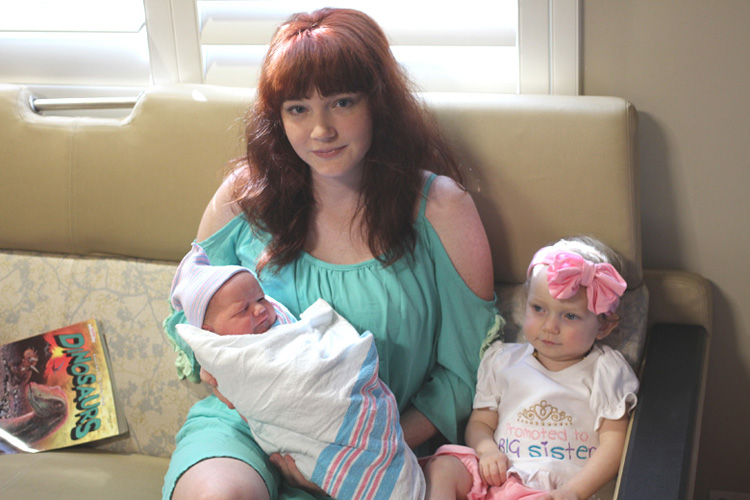 I'm proud. Sue me.
Edit: attached is my recipe.
Share this recipe on reddit
Batch Size (gallons)
5.5
Efficiency
74%
Recipe type
All Grain
Style
3A. Vienna Lager
Original Gravity
1.064
Final Gravity
1.014
ABV
6.56% (basic) / 6.57% (advanced) [what's this?]
IBU
33.3
Color
10.5 SRM
Boil Time
90 min

---

Yeast
White Labs WLP820 (Octoberfest/Marzen Lager)


---

Fermentables

| | | | |
| --- | --- | --- | --- |
| Name | Amt | Pct | SRM |
| Pilsner (2 Row) German | 8 lbs | 61.5% | 2 |
| Munich Malt, Light (Weyermann) | 4 lbs | 30.8% | 5.5 |
| Caramunich Malt | 1 lb | 7.7% | 56 |

---

Hops

| | | | | |
| --- | --- | --- | --- | --- |
| Name | Amt | Time | Alpha | IBU |
| Hallertauer (First Wort) | .5 oz | 90 | 4.8% | 6.3 |
| Saaz (First Wort) | .5 oz | 90 | 4% | 6.4 |
| Tettnang (First Wort) | .5 oz | 90 | 4.5% | 7.1 |
| Hallertauer (Boil) | .5 oz | 15 | 4.8% | 2.6 |
| Saaz (Boil) | .5 oz | 15 | 4% | 2.7 |
| Tettnang (Boil) | .5 oz | 15 | 4.5% | 3 |
| Tettnang (Steep/whirlpool) | .5 oz | 20 | 4.5% | 1.8 |
| Saaz (Steep/whirlpool) | .5 oz | 20 | 4% | 1.7 |
| Hallertauer (Steep/whirlpool) | .5 oz | 20 | 4.8% | 1.6 |
| Hallertauer (Dry Hop) | 1.5 oz | 4 | 4.8% | 0 |
| Saaz (Dry Hop) | 1.5 oz | 4 | 4% | 0 |
| Tettnang (Dry Hop) | 1.5 oz | 4 | 4.5% | 0 |

---




for complete recipe (with details like mash and fermentation temps), click here
Permalink
Tags for this post: baby, seven, children, born, princesses, beer, noble, hops








Please support BrewUnited by using our Amazon affiliate link when doing any shopping there - be it for homebrewing or for your regular shopping!


5 Comments
---
I like the amber lager idea
posted by
lizzard
on 6/24/2015 at 02:03:31 AM
---
Congrats Olan!! so glad to hear that she is healthy
posted by
blur_yo_face
on 6/24/2015 at 12:43:04 PM
---
You are correct - you are a blessed man for having that many kids. I am 3rd oldest of 8 and can say that it's a blessing having that many siblings as well. Congratulations & cheers!
posted by
lucashennessey
on 6/25/2015 at 10:01:40 AM
---
Congratulations, you truly are blessed! I love the "promoted to big sister shirt" :)
posted by
MrDustpan
on 7/10/2015 at 12:27:52 PM
---
Thanks, all!
posted by
homebrewdad
on 7/10/2015 at 01:05:44 PM
---