This past Saturday, I received a package I have been excitedly awaiting - a magnetic bottle opener from
Hannison Woodworks
. Hannison is a sponsor of the
2015 BrewUnited Challenge
; they are contributing prizes to three winners, who will receive their choice of a tap handle or bottle opener. I don't keg, but I do bottle; Matt (the owner of Hannison) was good enough to send me a custom magnetic opener to review.
---

Full disclosure: as mentioned above, Hannison Woodworks is a sponsor of the 2015 BrewUnited Challenge. This bottle opener was provided to me at no cost, in exchange for the consideration of an honest product review. With that said, the following review is 100% true and accurate, and is in my own words. Hannison did not suggest, edit, or even read my review prior to my public post.


---
My very first impression upon unboxing the opener was pretty simple - wow. This thing is beautiful; my wife - who is understandably no longer impressed with me dragging various pieces of brewing-related gear home - made several nice comments about the opener, and was happy to hang this on the front of our fridge. The opener is crafted from one solid piece of cherry wood, and the BrewUnited logo has been laser etched onto the face.
In what feels like a lifetime ago, I spent three years as a cabinetmaker, and have continued to enjoy woodworking from time to time. Our home features a huge, custom mantel that I made; my kids own a few toys that I helped Santa to craft; I've been known to turn a few pens on a small lathe in my basement. I don't claim to be a professional, but I know good woodworking when I see it.
This, my friends, is good woodworking. The etching of the logo is absolutely perfect; every detail is captured exactly, and the depth is perfectly consistent to the thickness of a typical veneer. The edges of the board itself are perfectly beveled all the way around, and while the wood is left unstained (a clear coat of polyurethane protects it), the sanding is excellent. The opener hardware itself is mounted in the exact center, and the screws are perfectly placed.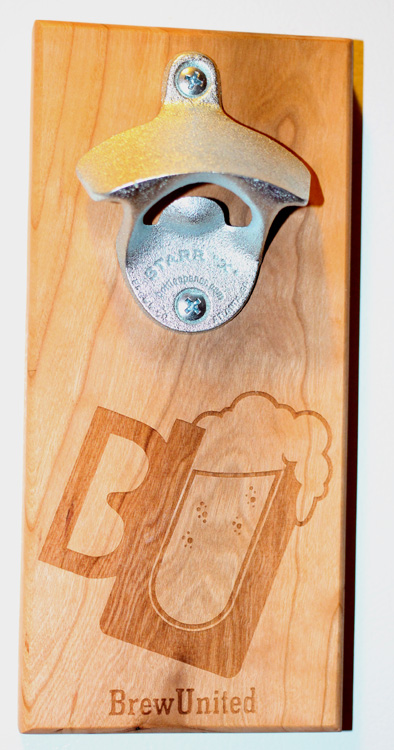 I mean, seriously - this thing is pretty.
Turning the opener over, we see that the back side bears the Hannison Woodworks seal, which has been burned attractively onto the wood. We also see three nicely sized rare earth magnets; each are 3/4 of an inch in diameter. The top two magnets - whose purpose is to hang the opener onto any convenient metal surface - are perfectly flush with the surface of the wood. The third magnet, located further down the board, is recessed within the wood - this magnet has the job of catching the bottle caps as you open your beer.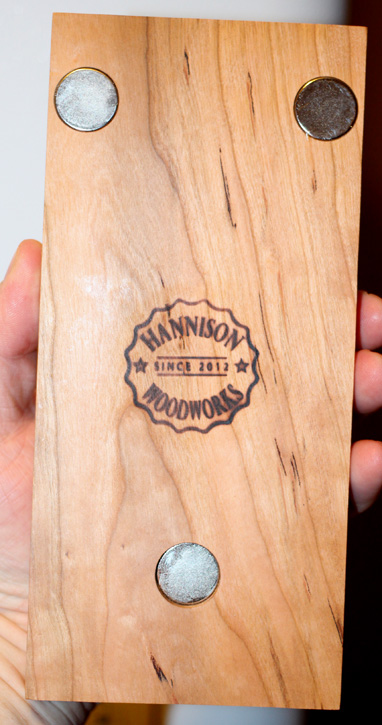 Back view of the opener; you can see the Hannison seal, as well as the rare earth magnets.
All told, I literally cannot find a single flaw in the workmanship of this piece. I would nitpick if I could, but there is simple nothing I can find to pick.
The mounting magnets have plenty of strength; once you stick the opener to a metal surface - my friend, it is
stuck
. It is much easier to slide past the edge of the fridge than it is to try to lift it from the surface. But how does the opener itself work?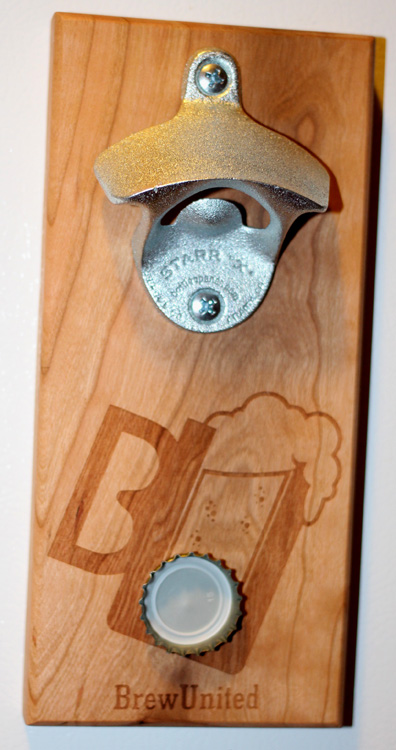 Yes, it works - and works great!
After multiple tries, I have a one hundred percent success rate of capturing the falling caps. The opener action is smooth and easy; caps come off with minimal effort, and the "catcher" magnet grabs them every single time.
And as for the caps themselves...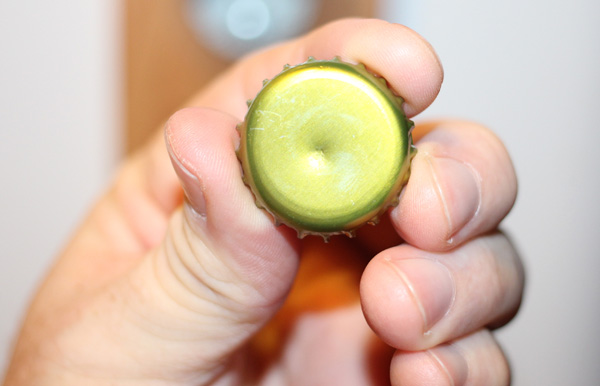 Have you ever seen one of these?
If you are the sort of person who collects bottle caps, you will notice that the opener leaves one small dimple in the center of the cap. It's not quite a "flawless" opening, but the caps are certainly not creased or mangled. Honestly, I'm not one to stress over the condition of bottle caps, but this does matter to some.
So... is the opener worth the price? That depends on your intention.
If you just want to open a beer bottle, you can buy a functional opener for a fraction of the cost of this one. This thing, however, is not simply a bottle opener - it has an undeniable "bling factor" to it. It would make an excellent gift for almost any brewer or beer drinker, and the ability for Hannison to laser etch means that it's possible to own a one of a kind piece for a very affordable price tag. I truly cannot see how the construction of this opener could be any better than it is, and I am proud to own one.
Permalink
Tags for this post: magnetic, bottle, opener, hannison, woodworks








Please support BrewUnited by using our Amazon affiliate link when doing any shopping there - be it for homebrewing or for your regular shopping!


0 Comments
---