I had planned to write about a fun - or, at least positive - subject for my post today. I've been working on my Christmas beer for this year, and while it's a bit off the wall, I have some high hopes for it. Related to that Christmas beer, I found myself trying to revive some old, neglected yeast; that turned out to be an interesting process. Also, I do really need to get a pumpkin beer "how to" post up.
Unfortunately, those topics will have to wait. Instead, it appears that it is time for a classic "what Homebrew Dad screwed up this time" story.
You may recall me posting three weeks or so ago about my
nine hour brewday
in preparation for the Alabama Brew Off. I had wanted to enter at least a couple of beers into the competition, but had missed the announcement stating when they would accept entries; as a result, I only had a chance to brew once for the comp. I ended up deciding to go with a split batch, which resulted in seven gallons of a simple wort. Four gallons got WLP820 and was fermented via the
fast lager process
as a Festbier. The other three gallons got further split; both got WLP500 so as to be fermented as a Belgian Blond, but I decided to play with pitch rates to see which gave the best Belgian character.
The fermentation process seemed to go great; once fermentation slowed, the Belgian got a small addition of a sugar solution to help dry it out, and both beers got cold crashed and treated with gelatin for clarity. At every step of the way, everything seemed to be great.
This past weekend, I finally got around to bottling. I had really meant to do so last week, but it was both my son's and wife's birthdays, we had a birthday party, and things were just chaotic. I figured that once I had them bottled, I could keep the beers a bit warm and still have them carbed in time for September 18th (the turn in deadline for the competition).
On Saturday night, I bottled the Festbier. My FG (1.018) was a tad higher than I had hoped for; with an OG of 1.068, that puts me within the expected attenuation range for WLP820, just not the top end of the range I was planning on. Still, the beer tasted quite good in the bottling bucket, so I felt pretty good about this one. However, I was up late, so I put off bottling the Belgian until Sunday night.
On Sundar night, I re-sanitized my bottles and got ready to bottle. I was anxious to pull gravity readings and see if my attenuation varied at all between the standard (.75 million cells per mL per degree plato) rate and the lower (~.45 million cells per mL per degree plato) rate. Beyond attenuation, I was hoping for more of the Belgian fruitiness for the underpitched batch. First up was the normal pitch rate batch. I pulled the airlock out of the top of the bucket, and my heart sank - did I see something white floating on the surface through that tiny hole?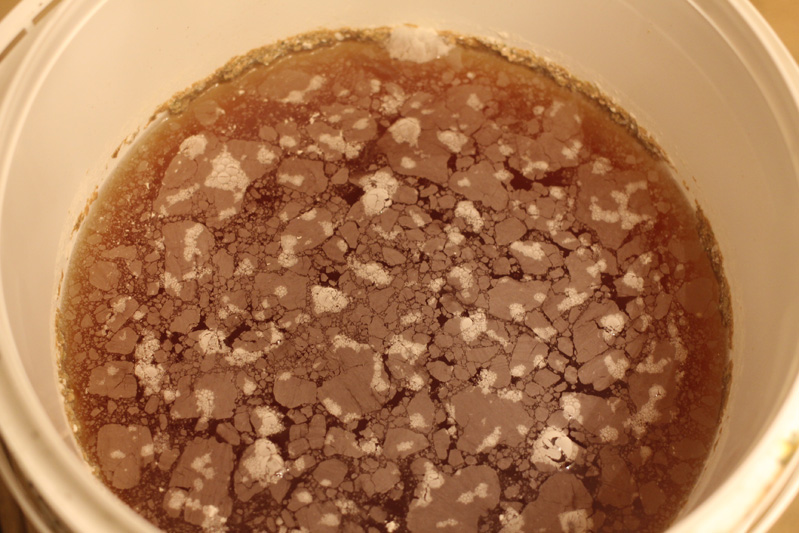 Yep, that's an infection.
Once the lid was off the of bucket, there was no doubt about it; this was a clear pellicle. The large, "plastic" bubbles, the white film... there was no pretending that this was some leftover krausen or normal fermentation byproduct.
Being a cockeyed optimist, I began hoping against hope. Maybe the other bucket would be okay. Maybe I would be spared a total loss on this beer. I could try the comparison again at a later date, but still end up with good beer. Right?
Right?
But the realist in me warned that things looked bleak. After all, the two buckets had been kept together, treated pretty much identically through the entire process. If I had managed to contaminate one, I had likely contaminated them both.
Afraid of what I would find, I pulled the second bucket's airlock off... and promptly let out a string of expletives.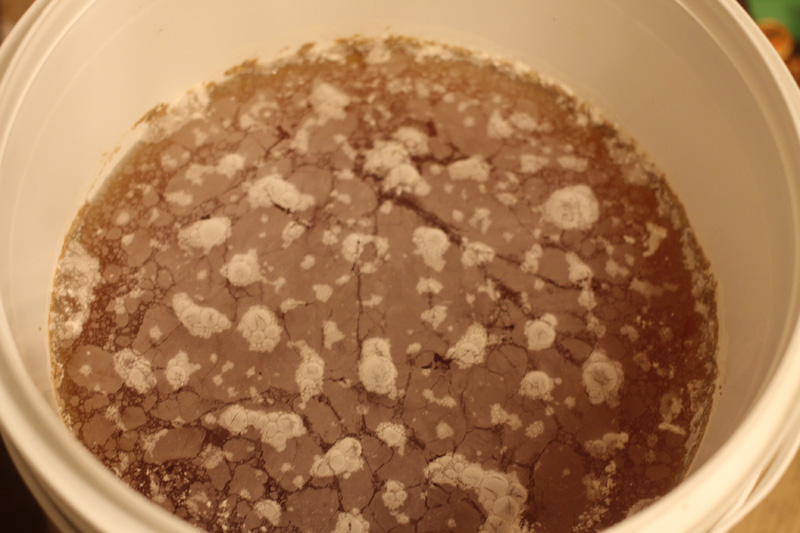 Two for two.
The situation was now upgraded from "disappointment" to "full fledged disaster". There would be no entering this beer into the Brew Off, much less winning anything with it. Down the drain it all went.
For the record - please, don't send me the parade of messages suggesting that I should not have dumped it, that I should have hit it with brett, set it aside to age, etc, etc. I don't care for sours beers to begin with, I needed the fermentor space, and furthermore, the beer had a gross metallic taste to it. Apparently, I don't have delicious wild bugs living in my basement (or I lack the ability to appreciate them). Regardless, none of the above would have saved my competition beer.
I suppose that all is not lost, as I will still enter what I believe will be a very solid Festbier. Sadly, that is all I will enter; I just don't feel like I have anything else on hand that is competition worthy. Which, of course, is a big reason that I did a split brew in the first place.
And now, I get to play detective, and try to figure out where I went wrong. I had treated the buckets with an extended sanitation regimen prior to brewing, and as stated, everything looked great every step of the way. All I can figure is that I introduced some contaminant when I added either the sugar or the gelatin (though the gelatin didn't seem to hurt the Festbier, and it was made via an identical process).
To call me frustrated and disheartened would be an understatement.
---
On a happy aside, let me drop a quick plug here for a buddy. I'm sure you know about
Brulosophy
(I link one of the articles above in the "fast lager" process), but Marshall (who runs the site) is a cool guy. He's started doing fun beer shirts, and has a new one - go check it out.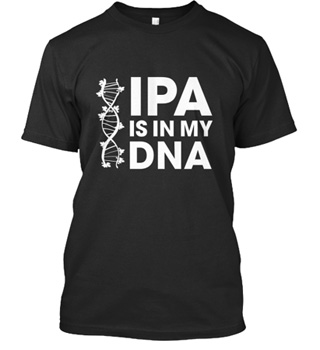 Click the pic to go to the order form.
Permalink
Tags for this post: infection, competition, drain pour, beer, infected








Please support BrewUnited by using our Amazon affiliate link when doing any shopping there - be it for homebrewing or for your regular shopping!


3 Comments
---
My condolences. You are in our thoughts.
posted by
nzo
on 9/08/2015 at 11:59:26 AM
---
Sorry for your loss.
posted by
MrDustpan
on 9/09/2015 at 07:54:43 PM
---
You remind me that it's time to replace my fermenters. It's been 18 months (I use plastic better bottles) no infections yet however I don't want to take chances with bugs!
posted by
Buxman14
on 9/17/2015 at 04:55:13 PM
---