Yesterday, we (finally) managed to get the Best of Show judging done with the 2015 BrewUnited Challenge. Of course, this was about nine days after when we had scheduled for it to be done; I am sorry for the delay. By and large, I feel like things ran really smoothly in this competition, but the judge no shows at the Malty Division got us behind schedule. When you combine that with the aggressive calendar for BOS judging (silly me thought that we could easily judge BOS a week after the initial Division judging), I ended up having to scramble for BOS judges. Live and learn; next year, we'll plan a little more cushion into the schedule.
But that's neither here nor there, and I'm sure that nobody really cares about the whys of how things got off.
Yesterday, we had three BJCP judges meet and judge the Best of Show beers (let me give a quick shout out to
Alabrew
, who was awesome enough to let us judge there). They were super professional and thoughtful during the process, weighing each beer and making their own notes before any discussion was made. Then, they deliberated - and the discussion got a little lively.
Please let me be very clear - all three of the finalist beers were excellent. The judges really enjoyed them all, and had great things to say about them all. But in a round like this, every tiny possible flaw gets examined and tossed around, the beers are compared very carefully to the written guidelines, and a lot of pro/con analysis is performed. Questions like "would beer A actually have been a better example of style B?" were asked about all three entries, as were musings of which beer the judge would simply prefer to enjoy a pint of. However, they were also very careful to read aloud the written style guidelines and use that as a checklist for each beer and how it stood up to style.
I was very impressed with just how seriously the judges took the process, and how they clearly tried to avoid relying their own preconceptions about a given style. Comments like "oh, the style says low to medium hop flavor - so you can't count that as a fault" were made.
Finally, after at least a good ten minutes of discussion, they settled on a winner.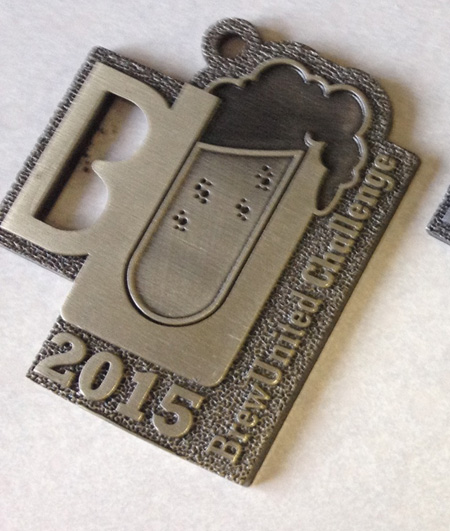 Who does this final gold medal go to?
And that winner was
Aaron Curtis from Houston, Texas, and his ESB
. Congratulations, Aaron!
Cast your eyes upon the swag heading to Aaron for his win: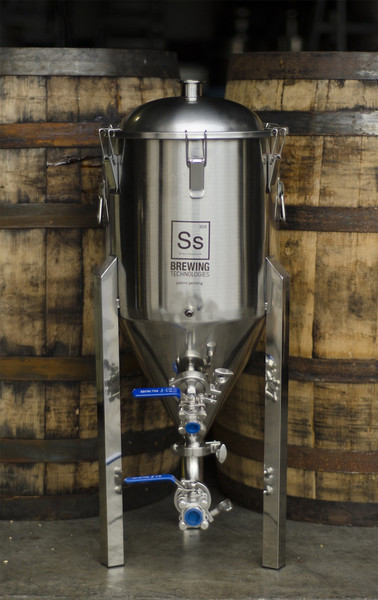 A Chronical 7 gallon stainless steel fermentor, courtesy of
SS Brew Tech
.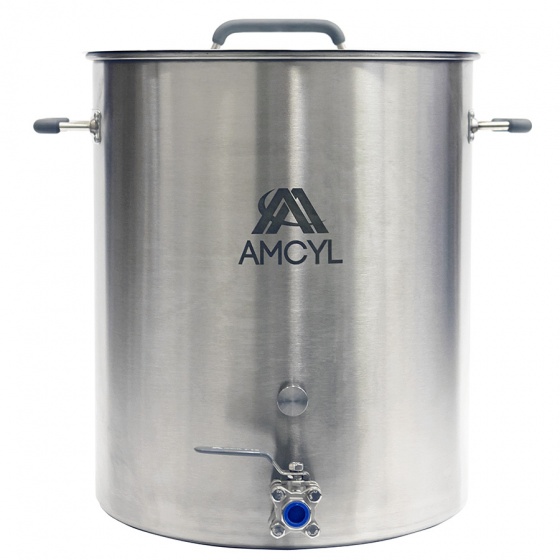 A loaded AMCYL kettle (choice of 10 of 15 gallon) - includes ball valve and thermometer - courtesy of
HomeBrewSupply
.
To go with that new Chronical, the choice of a blowoff kit or a pressure transfer kit from
BrewHouse Hardware
.
All told, Aaron's grand prize package is worth approximately
seven hundred dollars
!
Thank you to everyone who participated in this year's BrewUnited Challenge. We will absolutely do it again next fall - and we expect it to be bigger and better. We are also mulling over the idea of a possible extra competition in the spring, themed around sours, funky beers, fruit beers, and the like - though this remains to be seen.
Also, remember - this competition would not have been possible without the generous support of our sponsors. Please consider
doing business with them
if you are in the market for any homebrewing gear, supplies, etc (the link leads to a listing of all sponsors). Happy brewing!
Permalink
Tags for this post: grand, prize, winner, BrewUnited, challenge, competition, brewing, beer








Please support BrewUnited by using our Amazon affiliate link when doing any shopping there - be it for homebrewing or for your regular shopping!


4 Comments
---
Congratulations Aaron!
posted by
mchrispen
on 11/11/2015 at 01:04:16 PM
---
Congratulations Aaron!!!
Well done. I can't wait to see what you did with the recipe (and our wonderful list of allowed ingredients) to come up with a winning ESB. :-)
posted by
Chal
on 11/11/2015 at 02:22:49 PM
---
Congrats Aaron!
posted by
gruuk
on 11/11/2015 at 02:42:41 PM
---
Congrats - great challenge everyone!
posted by
jkrochune
on 11/11/2015 at 08:51:40 PM
---