The time has come. The end is nigh. The day of reckoning is at hand. Also,
other assorted clichés stressing urgency
.
Folks, it is now September 1st. Response to this year's BrewUnited Challenge has been wonderful - we've received forty percent more entries than we did last year - but there are still some spots left against this year's expanded entry cap. If you register right now, you can still enter any beer outside of a SMaSH (though we do have a wait list for that category if you are still interested, as we always have a few cancellations). Understand, those spots are limited - there are fewer than five spots left in the American Beers Division, and roughly eighty spots left overall - but the spots
are
still there.
The official, absolute last day to register for this year's BrewUnited Challenge is September 15th. However, we start accepting beers at our judging sites on September 26th - and all beer must be received no later than October 7th. If you bottle condition, you probably want to be brewing right away (if you have not already done so)... and keggers won't want to wait much longer, either.
As of this post, we have some thirty-nine sponsors who have contributed nearly
eight thousand dollars
worth of prizes. Please, allow that to sink in -
eight thousand dollars
. This is just NUTS. 1st, 2nd, and 3rd place in every Division will receive a crazy prize package, the overall winner will receive an even crazier one... but there will be tons of prizes given out, overall. Beautiful custom medals will be awarded to 1st, 2nd, and 3rd place of every single style category, plus every Division, plus to the SMaSH category. Every single entrant will get a free copy of the Android app, Brew.io. And don't forget the Homebrew Hero awards, given to the best of the best - those who enter three beers that score 30 or above are eligible for super special recognition and prizes.
Furthermore, we pride ourselves on giving thorough, thoughtful, useful feedback when we judge. You won't find judging sheets with virtually no comments, or judging sheets that feel like they didn't even try your beer. Every single beer is important to us!
This amazing event continues to grow - but if you want to be part of it,
you need to act now.
ENTER HERE
Now then, I have one other order of business for today's post.
I have been sorting prizes for shipping, and I came across a little leftover BrewUnited merchandise. Most of it is from last year's Challenge, though I have a few of our first run community tee shirts, as well. If you are interested, I have the following items for sale:
2015 BrewUnited Challenge tee shirts - one XXL, two XL, one M - $10, shipped
2015 BrewUnited Challenge pint glass - one left - $9, shipped
2015 BrewUnited Challenge stickers - quite a few of these left - $1, shipped
BrewUnited Community tee shirt (the one with all of the various "brew" lettering behind the logo) - one charcoal XL, one charcoal L, one royal XL - $15 shipped
If you are interested in any of the above, shoot an email to
[email protected]
.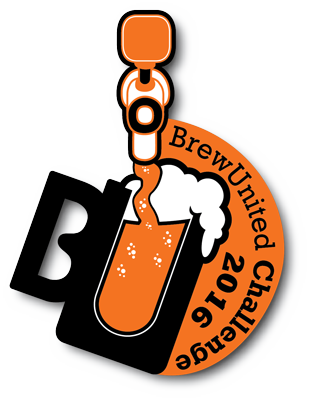 Permalink
Tags for this post: BrewUnited, challenge, competition, homebrew, deadline, prizes








Please support BrewUnited by using our Amazon affiliate link when doing any shopping there - be it for homebrewing or for your regular shopping!


0 Comments
---