Back at the end of August, I brewed my very first lager - an Oktoberfest of my own design. I kept intending to post a brew report, but never did. I felt guilty about that failing, and ended up being a chucklehead and not posting to the blog at all for a while. Boo on me.
The whole idea behind the beer was that I wanted a big, red, malty Oktoberfest. I really enjoy the Sam Adams interpretation, though I am aware that it makes some purists cringe. I find the style to be extremely interesting, as the BJCP guidelines leave a *lot* of room for interpretation. I also discovered anew how passionate - and condescending - some beer nerds can be, after I opened a thread on homebrewtalk to discuss recipe formulation, and was basically informed by some that a sweet beer like the Sam Adams version is not really worthy of the name "Oktoberfest", and that I should be ashamed for daring to enjoy it.
Those discussions did inspire me to add a real wiesnbier to my eventual brew list, but in the end, isn't homebrewing about creating beers that you enjoy? I certainly believe so, and to that end, I collected a lot of advice (including some major influence from Ray Daniels' outstanding book, Designing Great Beers), then pushed on with my idea.
I had gone back and forth on yeast choice, but ended up going with WLP820 (Oktoberfest/Märzen lager). I know that some advocate picking a "house lager" yeast and using it for every lager that they brew, but I don't bank yeast anyway, so I'd just as soon go with something that's a perfect fit for whatever I'm brewing. This yeast is supposed to really accentuate the malt aspects of a beer, and after a lot of homework, I felt that it would perfectly go with my own Oktoberfest.
I have seen that WLP820 gets some negative press. It isn't listed as being as attenuative as some strains; I've also seen claims that it can be a very slow starter. Still, I felt like this yeast was my best match, so I went with it.
The posted attenuation range for this yeast is 65% - 73%, but Beersmith was predicting a FG of 1.016 (I mashed at 149 degrees F)... which was more that the yeast was supposed to be able to do (this would be 75%). After talking with a brewing buddy who does lagers almost exclusively, I expected to see something more in the 1.018 - 1.020 range. The brew day itself went excellent, and I nailed my expected OG of 1.065 on the nose. I chilled as much as I could with my chiller, then stuck the beer in the fridge overnight to get down to lager pitch temp. The next morning, I pitched my yeast (I had built up and decanted a massive 4.5 liter starter) into my 54 degree F wort. As for slow starting... I had airlock bubbles by the time that I came home from work.
I fermented at 50 degrees F for six days, then did a diacetyl rest for five more days. At that point, I started to lager at 33 degrees F, and kept it there for a LONG time. There was a short break; my daughter unplugged the fridge while the rest of the family was on vacation after the beer had been lagering for about two and a half months, so the beer got to the mid sixties F for a few days. I dropped it back down when I got home (and naturally chewed her out for touching my beer fridge), then finally took it out of my ferm chamber three weeks ago. I would have let it lager until bottling day, but I decided that I wanted some very precise temperature control for my oatmeal toffee stout, so the Oktoberfest went to basement temps for three weeks.
Well, today, I finally bottled it. I had planned for this beer to be ready to drink a week or so before Christmas, but life and the holidays got in the way; I'm now hoping that it will be ready by Valentine's Day.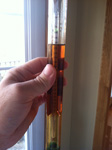 I pulled a gravity reading before bottling, and discovered the absolute clearest beer I have ever brewed. Seriously, this stuff is beautiful! Sadly, I did miss on the red color I was hoping for; somehow, I'll have to choke down some delicious brown/amber beer. And yes, it *is* delicious - I was happy to drink every bit of that sample. Malty, crisp, very tasty.
Crisp? I'm aware that beer will change with carbonation, but I was surprised as just how crisp the beer seemed - the "too sweet" finish that some had warned of was definitely not the case for me. Of course, the fact that my final gravity was just a hair above 1.012 probably had something to do with it! So much for a maximum attenuation of 73%... by my math, I'm measuring between 80% and 81% actual attenuation.
So, would I use this yeast again? Absolutely I would heartily recommend WLP820 to anyone planning to do a similar beer.
On a final, unrelated note... man, those new Bottlemark caps look amazing. I've always loved their caps, but they are now offering several color choices, and I decided to go with black caps this time. If you ask me, they make my logo absolutely pop! If you're ever considering custom caps, I can't recommend Bottlemark enough.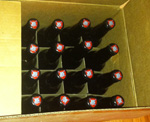 Batch Size (gallons)
5.5
Efficiency
74%
Recipe type
All Grain
Style
3B. Oktoberfest/Marzen
Original Gravity
1.065
Final Gravity
1.016
ABV
6.43% (basic) / 6.44% (advanced) [what's this?]
IBU
28.4
Color
13.5 SRM
Boil Time
90 min

---

Yeast
White Labs WLP820 (Octoberfest/Marzen Lager)


---

Fermentables

| | | | |
| --- | --- | --- | --- |
| Name | Amt | Pct | SRM |
| Munich Malt | 4 lbs 4 oz | 31.8% | 9 |
| Pilsner (2 Row) German | 4 lbs | 29.9% | 2 |
| Vienna Malt | 3 lbs 8 oz | 26.2% | 3.5 |
| Melanoiden Malt | 8 oz | 3.7% | 20 |
| Caramunich Malt | 8 oz | 3.7% | 56 |
| Cara-Pils/Dextrine | 8 oz | 3.7% | 2 |
| Carafa III | 2 oz | 0.9% | 525 |

---

Hops

| | | | | |
| --- | --- | --- | --- | --- |
| Name | Amt | Time | Alpha | IBU |
| Tettnang (Boil) | .88 oz | 60 | 4.5% | 15.4 |
| Hallertauer (Boil) | .75 oz | 60 | 4.8% | 9.3 |
| Hallertauer (Boil) | .25 oz | 20 | 4.8% | 1.9 |
| Tettnang (Boil) | .18 oz | 20 | 4.5% | 1.9 |

---




for complete recipe (with details like mash and fermentation temps), click here
Permalink
Tags for this post: Oktoberfest, lager, brewing, homebrewing, wlp820, yeast








Please support BrewUnited by using our Amazon affiliate link when doing any shopping there - be it for homebrewing or for your regular shopping!


3 Comments
---
Thanks for the quick reply think I'm going to go with this recipe how would you change your bill or process to attain a redder color?
posted by
Gustifer
on 2/04/2014 at 07:44:27 PM
---
Ah, red... the unicorn of beer colors.
You could always add a couple of ounces of roasted barley for a nice red color, but I purposely did not do that in the interest of brewing this with authentic ingredients.
My best guess would be that you could up the melanoiden malt and drop the base malt a bit.
Please do let me know how it goes for you!
posted by
homebrewadad
on 1/10/2015 at 10:11:18 PM
---
Hello and greetings from Bavaria!
Looks like a lovely recipe but I'd stay away from Caramel malts if you want a slightly more authentic flavour :) For these beers all you have to play with are Pilsner, Vienna and Munich. Not that this recipe doesn't sound delicious though!
I always do them with a Hochkurz decoction (well modified malt) at 62/72/77 respectively. Boiling the grains for 5-10 mins (after taste).
At 50 EBC you are already in Dunkel territory...
Congrats to working successfully with WLP820 - it's an incredible product! I pitch at 5-6C, main ferment at 7-9C, then warm maturation after 50% EVG (attenuation) where it goes up by 3C from main fermentation temp until final attenuation is reached.
Then it disappears into the lager vessels at -1C for 2 weeks at 0.5 BAR pressure.
The textbooks refer to this as cold fermentation with warm maturation ;)
Best
posted by
Nico
on 11/08/2014 at 03:41:59 AM
---