I have bottled two batches of beer since I last shared pictures of my amazing beer bottle labels. Seeing as how the labels are designed for me by my friend Lori Krell out of the goodness of her heart, I'm being a louse by not
showing her some link love
before now! Yes, Lori is available for commissions.
So, without further adieu, please allow me to share the labels for
Treasue Type "T"
(an oatmeal toffee stout) and
Royal Goblin
(a hoppy English brown ale).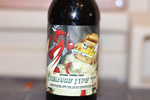 First up is Treature Type "T". If you are nerdy enough (and old enough), you may recall the old school Dungeons and Dragons random treasure tables. This beer name is a callback to these, and is also a bit of a play on words (the "T" standing for toffee).
This label features our Confederate red dragon opening a treasure chest, which contains not only gold and jewels, but a scrollcase (for accuracy... treasure type "T" in D&D represented magical scrolls) and a bottle of beer. Lori picked the font, which evokes Indiana Jones style adventure.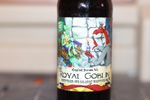 Next up is Royal Goblin. This beer is esentially just a rendition of Orfy's famous clone recipe for hobgoblin of Wychwood Brewery. This name was picked as a homage to Hobgoblin, with the "royal" portion being a nod to the fact that the yeast is from Yorkshire, a seat of the nobility.
This label bears the likeness of a goblin king seated on a tattered old chair decorated as a throne, with trash and the like serving as decorations. Our Confederate red dragon is presenting His Highness with a bottle of beer fit for a king.
I want to take a moment to brag on Lori's amazing skills. The typical process is that I dream up a name for the beer, then come up with a very rough idea of a label. I send her my idea via email, leaving her plenty of leeway to be creative. She has an uncanny skill of taking my idea and bringing it to vibrant life... somtimes with subtle changes that seem to improve on my concept every single time.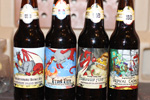 Just to recap Lori's awesomeness, check out the lineup of the four Confederate Dragon beers she has done labels for: Thundersmoke (English brown ale), FrostFire (Marzen), Treasure Type "T" (oatmeal toffee stout), and Royal Goblin (hoppy English brown ale).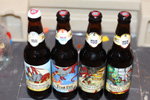 The custom bottle caps are from
Bottlemark.com
. I have to say that I love the new color options they now offer - in my opinion, the black caps look even better than the old white ones did.
Finally, a few bonus photos. When I started taking pictures of the beers, my brewing assistants - i.e. my little boys - insisted on being photographed with the bottles. So, here they are. From left to right, we have Noah (age six), Jonah (age four), and Silas (age two).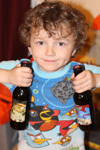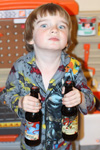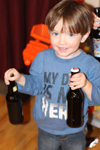 Permalink
Tags for this post: custom, beer, bottle, label, labels, ale, English brown, stout








Please support BrewUnited by using our Amazon affiliate link when doing any shopping there - be it for homebrewing or for your regular shopping!


1 Comments
---
Great site! I've been using your "utilites" priming sugar calc for a while now, always spot on! I just bottled up an all citra pale ale. Keep up the good work!
posted by
Kirk M
on 5/04/2014 at 10:35:14 AM
---