A couple of weeks ago, I wrote about
the motivation behind the most "international" beer I've ever done
- my Wandering Barbarian IPA, which features ingredients from seven different countries and at least four US states. At the time, I was pretty excited about this particular brew... but, in all honestly, I'm always excited about new beers, so I will forgive you if you didn't share in my enthusiasm.
The highlights of this beer - in case you don't care to read the article - are that it features ECY-29 (Conan) yeast, some interesting, fruity hops in El Dorado and Motueka, and a fairly unique grain bill starring Golden Promise and honey malt. On a lark, I ended up picking up some palm sugar from my local Asian market, which is used to both dry the beer a bit, and to hopefully give it some subtle flavor.
Of course, my six ounces of dry hops were intended to be anything but subtle - I was looking for a fruity aroma bomb. Combined with moderate first wort hopping for bitterness, some minor late boil additions, and a big flameout/whirlpool addition (all told, I used 9.5 ounces of hops in this beer!), I was really hoping for smooth bitterness, huge hop flavor, and the aforementioned MASSIVE hop aroma.
Finally, this would be the first beer that I have ever used gelatin on. I planned to follow
Brulosopher's gelatin instructions
, but I'll confess - I couldn't be bothered with silly "seven second bursts" in my microwave; I added 1/2 tsp of
Knox unflavored gelatin
to 1/4 cup of cool water, stuck the measuring cup in the microwave for 45 seconds, decided it was hot enough, stirred, then dumped it into the carboy.
I had planned to wait two weeks before I tried one, but eight days proved to be the limit of my self control. I'm usually an advoate for patience, but I have to admit - I'm glad that I didn't wait.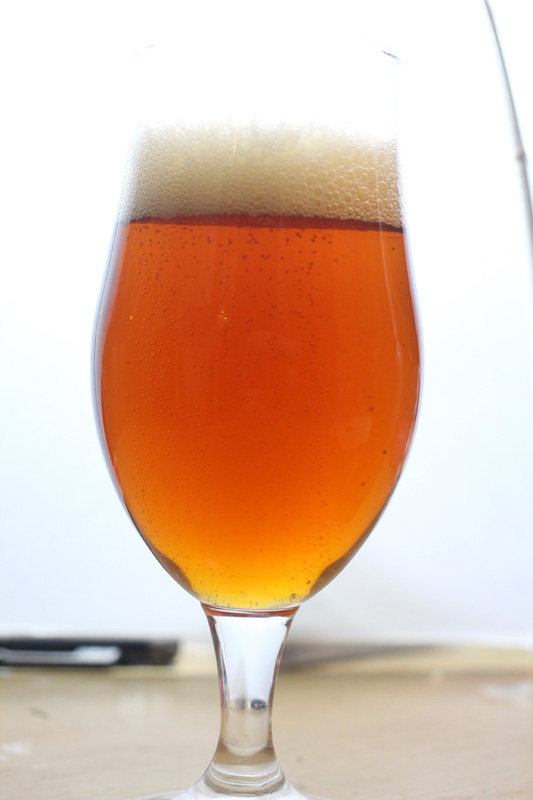 Behold, the best beer picture I have ever taken!
That, my friends, is a beautiful beer. Considering that I had forgotten the whirlfloc during the boil, and that I again used
six ounces
of dry hops in the carboy, I am now a firm convert - gelatin is magic for clarity. But pretty is one thing... how was this beer, really?
Aroma is huge and heavenly. Massive hoppiness dominates. The biggest component I get is a lemon/lime citrusy portion, but there is also a strong, sweet (almost candy-like), "fruity" that is quite prevalent; also, there's is a touch of that Conan peach here, too, though it is very mild. Malt is reserved, but not missing - I get mild toastiness behind it all. I could swear there's a hint of honey.
Flavor is (not surprisingly) huge and hoppy up front, though there is definitely enough malt to hold it all up. If I want to pick it apart and really focus on the individual flavors, I can pick up on some toastiness in the middle, and that hint of honey appears here as well, but let's not kid anybody - hops are the star of this show. Finish is bitter and dry, but pleasingly so; there is zero astringency here, just that pleasant hop aftertaste that says "take another sip".
Mouthfeel is on the light side of balance, quite drinkable, though a bit more substantive than I would have expected from a 1.011 FG. It almost has a hint of creaminess to it.
Overall - oh, mama. Multiple bottles of this beer over the past week and a half confirm that this may well be the best beer I have ever brewed. The only possible gripe that I have is that my cool fermentation has apparently robbed me of the big peach aroma esters I was hoping that Conan would yield, but it's far from a deal breaker. The hop aromas that I do have play together really nicely, and this beer is really just delicious. Obviously, it doesn't hurt that it's gorgeous. The 7% ABV is totally hidden - though, if you're a lightweight like me, it's something to keep in mind.
Will this beer win a competition? Probably not. At 49 IBU, it's technically in style for American IPAs (the hops used disqualify it from English IPA consideration), but it's nowhere near bitter enough to stand toe to toe with the typical winners of that category.
So what?
This beer has incredible aspects while still retaining balance. It's interesting, it's enjoyable... I really don't know if I could be happier with it. Next time, I might try to ferment a bit warmer to see if I can get a little more peach out of the yeast, but aside from that? I don't know that I would change anything.
Thanks again to GirkinFirker for his initial gift of this yeast! Thanks to the HomebrewDad charter members for their extended input; if not for their suggestions (also arguments and insults), I doubt I would have ended up with a beer this good. Cheers!
Share this recipe on reddit
Batch Size (gallons)
6
Efficiency
74%
Recipe type
All Grain
Style
14B. American IPA
Original Gravity
1.071
Final Gravity
1.011
ABV
7.88% (basic) / 7.9% (advanced) [what's this?]
IBU
49
Color
9.5 SRM
Boil Time
60 min

---

Yeast
East Coast Yeast ECY29 (North East Ale)


---

Fermentables

| | | | |
| --- | --- | --- | --- |
| Name | Amt | Pct | SRM |
| Pale Malt, Golden Promise | 12 lbs | 78.4% | 2.5 |
| Vienna Malt | 1 lb | 6.5% | 3.5 |
| Honey Malt | 12 oz | 4.9% | 25 |
| Caramel/Crystal Malt - 60L | 12 oz | 4.9% | 60 |
| Sugar, Palm | 9 oz | 3.7% | 4 |
| Barley, Flaked | 4 oz | 1.6% | 1.7 |

---

Hops

| | | | | |
| --- | --- | --- | --- | --- |
| Name | Amt | Time | Alpha | IBU |
| El Dorado (First Wort) | .5 oz | 60 | 15% | 21.6 |
| El Dorado (Boil) | .5 oz | 10 | 15% | 7.1 |
| Motueka (Boil) | .5 oz | 10 | 7% | 3.1 |
| El Dorado (Steep/whirlpool) | 1 oz | 20 | 15% | 11.9 |
| Motueka (Steep/whirlpool) | 1 oz | 20 | 7% | 5.2 |
| El Dorado (Dry Hop) | 1.5 oz | 5 | 15% | 0 |
| Motueka (Dry Hop) | 1.5 oz | 5 | 7% | 0 |
| El Dorado (Dry Hop) | 1.5 oz | 3 | 15% | 0 |
| Motueka (Dry Hop) | 1.5 oz | 3 | 7% | 0 |

---




for complete recipe (with details like mash and fermentation temps), click here
Permalink
Tags for this post: conan, IPA, beer, homebrew, international








Please support BrewUnited by using our Amazon affiliate link when doing any shopping there - be it for homebrewing or for your regular shopping!


6 Comments
---
That's awesome! How does this recipe stand up against your Oakenbranch IPA?
posted by
the_Dr_brown
on 2/07/2015 at 06:20:04 PM
---
Honestly? I think it's better. Oakenbranch is an excellent beer, and is probably a little more unique compared to the IPAs you normally encounter... but I think I like this one even more.
posted by
homebrewdad
on 2/07/2015 at 06:42:55 PM
---
That is really cool! IPAs aren't really my go to due to the bitterness and I really like the idea of a low IBU fully hopped brew, but I would love to try this as well! Do you think that a more standard IPA grain bill with the same hops be just as good?
posted by
the_Dr_brown
on 2/07/2015 at 06:56:56 PM
---
Well, I think this hop schedule would work well with a lot of recipes, sure. That said, I feel like everything is really well balanced and complimentary in this beer; I don't know if it would be as good with a really different grain bill.
posted by
homebrewdad
on 2/07/2015 at 07:11:38 PM
---
Interesting, thank you for you help! I will have to try both of these and make up my own damn mind!
posted by
the_Dr_brown
on 2/07/2015 at 07:16:25 PM
---
Happy to share what I can, Doc. And as for making up your mind... that's what homebrewing is about, no? Good luck!
posted by
homebrewdad
on 2/07/2015 at 10:32:04 PM
---