It may have happened the first time you cracked open a bottle of your own beer and discovered that, in complete honestly, it really wasn't all that bad. Maybe it happened when you perfected a clone of a favorite commercial brew. Perhaps when you won that first (or fifth, or tenth) competition medal, you couldn't help but wonder. Maybe the idea arose from the praise of your buddies, or the guys from the local homebrewing club, or picky Jim from accounting. It may have occurred to you after you brewed for a company function, or even for someone's wedding, and got to revel in the satisfaction of knowing how much other people enjoyed your creations. If you brew halfway decent beer (and often, if you simply give away free beer of virtually any quality), chances are that someone will eventually suggest that you should consider brewing in a professional capacity.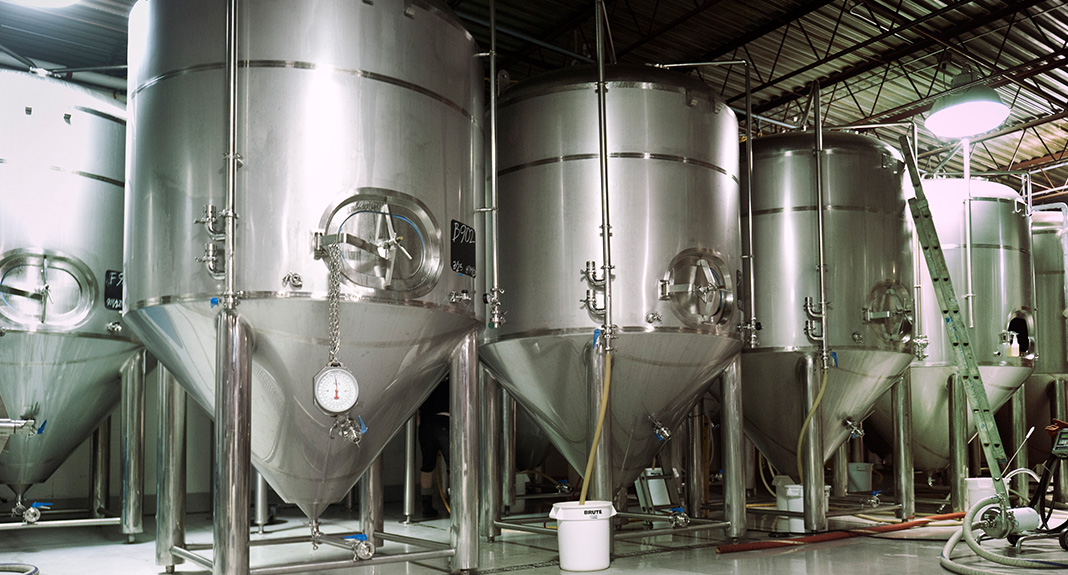 The stainless steel stuff of dreams.
Photo courtesy of Surly Brewing
No matter where and when the inspiration came from, it's an idea that is nearly universal to homebrewers everywhere - that if you really were to focus on it, you could open your own brewery... and man, it would be
amazing
. Naturally, that amazing brewery needs a fantastic name - which might be meaningful in some personal way, or it might be clever, or it might be exceptionally punny (after all, many homebrewers have an unhealthy fascination with puns).
How many of us have custom glassware, mash paddles, signs, tee shirts, or other merchandise proudly emblazoned with the name of our fictional brewery upon it? How many of us include the name of our pretend brewery on bottle labels and such (at least for the bottles that we give away)? I personally own a half dozen pint glasses, one stainless steel growler, and one custom wooden mash paddle (which was a replacement for another custom mash paddle that...
[
read more...
]
Please support BrewUnited by using our Amazon affiliate link when doing any shopping there - be it for homebrewing or for your regular shopping!
Wow, why does everything have to be north of 5% abv? An English Brown Ale at 6.16% ? NO such thing. An English IPA at 8.31%? WHY? I don't drink, or brew, beer to get sh**-faced. Why is the craft and homebrew trend in the U.S. toward MORE? More alcohol, more hops and more
posted by
mosquitofeet
on 1/20/2017 at 02:23:46 PM
---
I personally tend to brew higher alcohol stuff for one simple reason - I like more intense flavors, and I seldom drink more than one (sometimes two) beers in a given day. As a result, it's not a big deal for me to toss in a little more base grain.
No such thing? That's like, your opinion, man. ;) It's homebrewing, the huge beauty is to be able to do whatever you like.
The market might agree with you, and my imaginary brewery might sell next to no 6% English brown. But since we're playing pretend, I think that it's okay.
posted by
homebrewdad
on 1/21/2017 at 04:27:35 PM
---
Love, love, love your topic of choice. It's inspired me to focus on brews that are unique to me and question what I really want to drink day in and day out.
As an aside, I do understand why alcohol content is higher. The market dictates what people will pay for. No one is buying a drink south of 5% when they can get blitz for the same amount of money.
posted by
akozdra
on 1/21/2017 at 07:44:17 PM
---
oh! and what is your imaginary brewery named?
posted by
akozdra
on 1/21/2017 at 07:47:03 PM
---
Glad you enjoyed it, akozdra. It's definitely a lot of fun to ponder.
My "brewery" is named as a nod to my Southern heritage and the fact that I'm a huge nerd (I still run a roleplaying game website at age forty) - Confederate Dragon Brewing. If you click the link in the third paragraph (the one that mentions labels), you can see the name there, plus some of the label art.
posted by
homebrewdad
on 1/21/2017 at 07:50:34 PM
---
Permalink
Tags for this post: brewery, going pro, commercial, beer list, lineup