No matter what you brew, no matter how often you brew, one constant remains - you have to clean your fermentor between batches. This can sometimes be easier said than done, as dried on krausen and fermentation byproducts can be difficult to remove - especially in vessels such as carboys, which have narrow openings that prevent easy scrubbing. And, of course, matters can be further complicated if you are using plastic fermentors that may not be compatible with scrubbing due to concerns about scratches.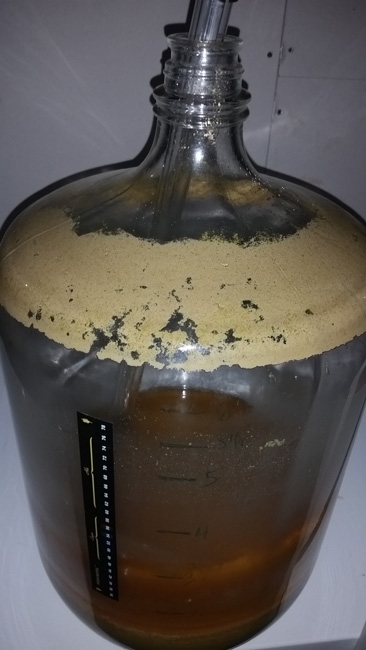 Gross.
Luckily, there are ways around the problem that don't force you to rely on using a glass carboy and a carboy brush... nor do you have to resort to some high-tech microfiber cloth attachment for a power drill (though the tool nut in me does admit that
these look pretty cool
).
Method One: the Soak
To me, the best alternative to scrubbing is to simply
not scrub at all
. Fill your fermentor with a solution of hot tap water and PBW (OxiClean Free is a pretty good stand in, and costs a bit less). The manufacturer recommended strength for this application is one tablespoon of PBW per gallon of water; I have found that PBW is still quite effective at lower concentrations than this.
Allow the fermentor to soak for an hour or two; an occasional swirl seems to be helpful. I have let glass carboys sit overnight in this solution multiple times, though as I understand it, doing so may not be advisable (there is some evidence that extended soaks in strong cleaning solutions can cause damage to the surface of fermentors)... so I've stopped that practice.
Regardless, a good soak, followed by a thorough rinse, will take care of the vast majority of even the heaviest krausen deposits.
Method Two: the Rag
Unfortunately, there are occasions where even a...
[
read more...
]
Please support BrewUnited by using our Amazon affiliate link when doing any shopping there - be it for homebrewing or for your regular shopping!
I utilize method 1. I quickly learned I could save $ by using less pbw. What I do is fill the better bottle up to about 2 gallons and add my PBW. Then I get some tin foil and a rubber band and tightly secure it to the top. I then flip the better bottle end-over-end and leave it like that in a bucket (to catch any slow drip). A virgorous shake once or twice over 30 mins and everything is gone. I have had issues with residual crud if I just let it sit for multiple hours
posted by
Brettwasbtd
on 1/28/2016 at 08:28:28 AM
---
I have a marks keg washer and love it. I'll make 4 litres of pbw solution and let the carboy sit on it for 20 minutes or so (while I do other things). Sometimes for the caked on stuff I'll take a brush to it then another 20 minutes or so.
posted by
sniffton
on 1/28/2016 at 11:12:43 PM
---
Permalink
Tags for this post: clean, carboy, fermentor, soaking